What is being dubbed as "Stardew Valley meets Harry Potter" is the new RPG coming from independent developer Chucklefish called Witchbrook. Recently they released new screenshots showcasing a completely revamp style of the game, with Stardew Valley-inspired pixel art and a new isometric view.  
Since its reveal in 2017, there hasn't been a whole lot more information regarding the game. The game's official website gives us this delightful morsel:
"Experience the thrills and pitfalls of school-life in Witchbrook! Discover a spellbinding isometric pixel art world full of charm and intrigue in this richly detailed magical school and town life simulator.

Forge your own identity as a witch-in-training on the road to graduation. Build relationships with fellow students and townsfolk, develop your magical abilities by attending classes and completing assignments. Participate in extracurricular activities such as fishing, growing magical crops and foraging strange mushrooms. Master secret spells, make friends for life and unravel the mysteries of the school…"
There is no release date; however, the website states that a potential date is "quite a while off." In addition, there is no information on what platforms the game will be released on.
Judging by the new screenshots, we should be prepared for a magically wonderful time. Along with fishing, growing crops, and foraging mushrooms, there looks to be some potion making, and going to a cake for cake and pie.
As someone who adores Stardew Valley and wears her Hufflepuff colors with pride, this game is on my watchlist. I expect to see broomstick crafting, magical creatures and quests to find them, and appearances by Krobus and the Wizard. Or just broomstick crafting (I'm not asking for much). Even the game's newsletter, the Witchbrook Oracle, that you receive from Chucklefish sets the perfect tone and brings you into the story. Through my powers of divination, I can forsee that this will be a pre-order.
You can find out more about Witchbrook through their website, or you can join their Discord community and follow Chucklefish on Twitter for game updates.
Screenshots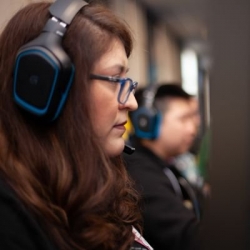 Latest posts by Renee Lopez
(see all)