Disney+ and Lucasfilm recently announced that The Clone Wars spin-off, Star Wars: The Bad Batch, will be arriving to Disney+ in 2021.
Disclaimer: There are spoilers ahead for Season 7 of The Clone Wars.
The show, executive produced by Dave Filoni, Athena Portillo, Brad Rau and Jennifer Corbett, follows Clone Force 99, a.k.a. "The Bad Batch," a team of elite clone troopers with enhanced abilities. The series is set after the events of the Clone Wars and during the rise of the Galactic Empire. This suggests that the Bad Batch resisted Order 66 and must now somehow survive in a post-Clone Wars galaxy.
From StarWars.com: "Giving new and existing fans the final chapter of Star Wars: The Clone Wars has been our honor at Disney+, and we are overjoyed by the global response to this landmark series," said Agnes Chu, senior vice president. "While The Clone Wars may have come to its conclusion, our partnership with the groundbreaking storytellers and artists at Lucasfilm Animation is only beginning. We are thrilled to bring Dave Filoni's vision to life through the next adventures of the Bad Batch."
The Bad Batch made their first appearance in The Clone Wars Season 7 episode, "The Bad Batch," where they aided Anakin, Captain Rex and Commander Cody in the retrieval of a strategy algorithm from Admiral Trench. The four-story arc followed Hunter (heightened senses), Wrecker (super strength), Crosshair (enhanced eyesight) and Tech (increased intelligence) as they infiltrated a Separatists-controlled Cyber Center. In the end, the Bad Batch rescued Echo, a clone trooper long-presumed dead.
RELATED: Read up on all Star Wars: The Clone Wars Recaps!
No set date has been announced, but keep an eye on Geek Girl Authority for more news about the upcoming series. In the meantime, you can catch up on all seven seasons of The Clone Wars on Disney+.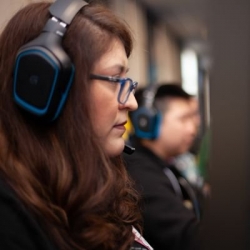 Latest posts by Renee Lopez
(see all)