The October lineup for Netflix is everything you hope for during such a spooky month. In the immortal words of everyone's favorite Tim Burton holiday classic:
This is Halloween!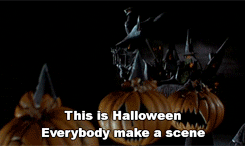 Netflix has a full list of things that go bump in the night and keep you awake for hours (unless watching horror is your jam) headed to their streaming service. Our list of must-watch highlights does not – but don't fret! We merely plucked a few things we think you should sprinkle throughout your October binging! So, before diving into the full list of television shows and movies to entertain you from now until All Hallows Eve, here are what we are most excited for:
The Never Ending Story
The kids have several animated shows to keep them occupied, like My Little Pony Equestria Girls: Rollercoaster of Friendship and new seasons of The Boss Baby and Super Monsters, but why not introduce them to a classic from our childhood? The NeverEnding Story is a PG movie in which a bullied young boy finds himself immersed in the tale of a magical land from reading a book he "borrows" from an old book store. The land, Fantasia, is being destroyed by The Nothing and Atreyu (Noah Hathaway) seeks to cure the Childlike Empress (Tami Stronach) in an attempt to save Fantasia. Things aren't exactly as they appear and their story unfolds with plenty of twists. This one is a must-see for all ages! The 1984 film, starring Barret Oliver as the bullied Bastian, is based on a book and spawned two sequels. Keep some tissues handy, though; there are some tear-jerker moments!
The NeverEnding Story flies to Netflix October 1st.
RELATED: YOUR DAILY FIST PUMP: Khaleesi and The NeverEnding Story Mashup – Turn Around, Look at What You See…
Daredevil Season 3
The devil of Hell's Kitchen is back! October 19th brings Matt Murdoch (Charlie Cox) back into his original Daredevil suit and marks the return of Wilson Fisk (Vincent D'Onofrio), aka Kingpin! The season promises darker, telling us that the darkness must be embraced, but in what way? We can't wait to see what Marvel and Netflix have in store for the blind lawyer this season!
Daredevil becomes the dark on October 19th.
RELATED: DAREDEVIL Date Announcement and Poster Reveal a Change in Season 3
Chilling Adventures of Sabrina
The new CW+Netflix teamup, Chilling Adventures of Sabrina, isn't the happy-go-lucky half-witch that we came to know and love with Melissa Joan Hart in the 90s. This Sabrina Spellman, portrayed by Kiernan Shipka, is of a darker variety, coming as a spin-off, of sorts, of the CW hit Riverdale. We're not quite sure what we should expect; will Chilling Adventures of Sabrina be this generation's Buffy the Vampire Slayer, dark but fun with high school drama thrown in the mix? 
Chilling Adventures of Sabrina arrives October 26th.
RELATED: New CHILLING ADVENTURES OF SABRINA Stills Highlight Key Characters
Netflix & Chills
Ok, so we realize you may only be here for the scary stuff. We get it. If horror and scares are what you're looking for this October, Netflix definitely has you covered! Take a look at the clip above and then read on to the full list of movies and shows coming to Netflix this month. 
RELATED: BLACK MIRROR Teases Season 5 Premiere Date and Reveals an Interactive Episode
And now for the new October offerings from Netflix
Note:
Items listed with the Netflix icon (

) are Netflix Originals.
Items listed with a down arrow icon (
) are Available for Download per Netflix. This list is not all inclusive and may vary by region.

Soon Available for Binging
Arriving October 1
Angel Eyes
Anger Management
Billy Madison
Black Dynamite
Blade
Blade II
Blazing Saddles
 Empire Records
Gotham, Season 4
Kevin Hart: Laugh at My Pain
Kevin Hart: Seriously Funny
Must Love Dogs
Mystic River
New York Minute
Once Upon a Time in America
Pay It Forward
Pee-wee's Big Adventure
Robin Hood: Prince of Thieves
Rumble in the Bronx
She's Out of My League
Sommersby
The Dead Pool
The Devil's Advocate
The Green Mile
The Lake House
The NeverEnding Story
V for Vendetta
Zack and Miri Make a Porno
Arriving October 2
 Joe Rogan: Strange Times
 MeatEater, Season 7
Arriving October 3
 Truth or Dare (2017)
Arriving October 4
 Creeped Out
The Haunting of Molly Hartley
 Violet Evergarden: Special
Arriving October 5
  Big Mouth, Season 2
 Dancing Queen
  Élite
 Empire Games
 Little Things, Season 2
  Malevolent
 Private Life
 Super Monsters Save Halloween
  Super Monsters, Season 2
 The Rise of Phoenixes (Streaming every Friday)
 YG Future Strategy Office
Arriving October 6
Arriving October 8
Disney's Sofia the First, Season 4
 Mo Amer: The Vagabond
Arriving October 9
 Terrace House: Opening New Doors, Part 4
Arriving October 10
  22 July
Arriving October 11
 Schitt's Creek, Season 4
Arriving October 12
  Apostle
 Errementari: The Blacksmith and the Devil 
 Feminists: What Were They Thinking?
  FightWorld 
  ReMastered: Who Shot the Sheriff 
 Tarzan and Jane, Season 2 
  The Boss Baby: Back in Business, Season 2
  The Curious Creations of Christine McConnell 
  The Haunting of Hill House 
  The Kindergarten Teacher 
Arriving October 15
Octonauts, Season 4
  The Seven Deadly Sins: Revival of The Commandments 
Arriving October 16
  Ron White: If You Quit Listening, I'll Shut Up
Arriving October 19
 Accidentally in Love 
 Ask the Doctor 
  Best.Worst.Weekend.Ever. (Limited Series)
  Derren Brown: Sacrifice 
 Distrito Salvaje 
  Gnome Alone 
  Haunted 
 Hip-Hop Evolution, Season 2
 Illang: The Wolf Brigade 
 Larva Island 
  Making a Murderer, Part 2 
 Marvel's Daredevil, Season 3 
  Salt Fat Acid Heat
 The Night Comes for Us 
  Wanderlust 
Arriving October 21
 Robozuna 
Arriving October 23
  Adam Sandler 100% Fresh 
Arriving October 24
  Bodyguard 
Arriving October 25
 Great News, Season 2
Arriving October 26
Arriving October 27
 Girl From Nowhere 
Arriving October 28
  Patriot Act With Hasan Minhaj (Streaming every Sunday)
Arriving October 30
  Fate/EXTRA Last Encore: Illustrias Geocentric Theory 
Arriving October 31
Goldie & Bear, Season 2
  Gun City 
Last Chance Binging
Leaving October 1
21
Anthony Bourdain: Parts Unknown, Seasons 1 – 8
Bad Boys
Big Men
Body of Lies
Casper's Haunted Christmas
Casper's Scare School
Cinderella Man
Cold Justice: Sex Crimes, Season 1
Curse of Chucky
Detectorists, Seasons 1 -2
Dog by Dog
Eyes Wide Shut
Fear and Loathing in Las Vegas
Freaks and Geeks, Season 1
Full Metal Jacket
Gargantia on the Verdurous Planet, Season 1
Guess Who
HooplaKidz, Collection 1
Inside Man
Jamaica Inn, Season 1
Jeepers Creepers 3
K, Season 1
Lakeview Terrace
Last Cab to Darwin
Let Me In
License to Wed
Life Is Beautiful
Mack & Moxy, Season 1
Man vs Snake: The Long and Twisted Tale of Nibbler
Menace II Society
Nura: Rise of the Yokai Clan: Demon Capital, Season 1
Orbit: Earth's Extraordinary Journey
Real Genius
Red Dragon
Rust and Bone
Scream 2
Space Race, Season 1
Tell Spring Not to Come This Year
The Adventures of Tintin
The Blood Lands, aka White Settlers
The Clan
The Departed
The Factory
The Legend of Frosty the Snowman
The Lost Boys
The Monkey King: Havoc in Heaven's Palace
The Strangers
The Time in Between, Season 1
Unsealed: Alien Files, Seasons 3 -4
White Collar, Seasons 1 – 6
Leaving October 2
The Human Centipede: First Sequence
Leaving October 6
Leaving October 8
90210, Seasons 1 – 5
Isa TK+
Leaving October 9
Leaving October 10
Leaving October 13
Leaving October 14
About a Boy, Seasons 1 – 2
Leaving October 15
The Chase, Seasons 3 – 4
Death Note, Season 1
Ice Pilots, Seasons 1 – 2
Vampire Knight, Seasons 1 – 2
Leaving October 16
Emily Owens, M.D., Season 1
Leaving October 17
Leaving October 22
Leaving October 24
Leaving October 25
Leaving October 26
Leaving October 28