We finally have a trailer and release date for The Sandman, the highly anticipated series based on the DC graphic novels by Neil Gaiman. The Sandman is a rich, character-driven blend of myth and dark fantasy over 10 epic chapters following Dream's many adventures. 
RELATED: Netflix GEEKED WEEK 2022: Guillermo del Toro Ramps Up the Horror With Cabinet of Curiosities
The official synopsis for The Sandman is as follows: There is another world that waits for all of us when we close our eyes and sleep; a place called the Dreaming. This is where The Sandman, Master of Dreams (Tom Sturridge), gives shape to all of our deepest fears and fantasies.
But when Dream is unexpectedly captured and held prisoner for a century, his absence sets off a series of events that will change the dreaming and waking worlds forever. To restore order, Dream must journey across different worlds and timelines to mend the mistakes he's made during his vast existence, revisiting old friends and foes, and meeting new entities — both cosmic and human — along the way. 
The cast consists of notable additions such as Game of Thrones' Gwendoline Christie, who will portray Lucifer, Ruler of Hell. Vivienne Acheampong plays Lucienne, the "chief librarian and trusted guardian of Dream's realm." 
Boyd Holbrook is The Corinthian, "an escaped nightmare who wishes to taste all that the world has in store." Charles Dance will portray Roderick Burgess, a magician, charlatan and blackmailer. Asim Chaudhry will play Abel, and Sanjeev Bhaskar will be Cain, the "first victim and the first predator." Both are loyal subjects of the Dream Realm. 
Neil Gaiman is an English author of short fiction, novels, comic books, graphic novels and more. You might know him from his other masterpieces, Coraline, Good Omens, co-written with the late great Terry Pratchett and American Gods.
The Sandman was developed and executive produced by Gaiman, who had a significant role in producing the screen adaptations of his other works. This gives us high hopes the project will be everything we ever dreamed of with the help of showrunner Allan Heinberg and David S. Goyer.
With stunning visuals, solid casting choices and a vibe on par with the graphic novel, we are already finding it difficult to contain our excitement until the release. The Sandman will awaken on Netflix on August 5, 2022. Watch the trailer announcement below!
Netflix GEEKED WEEK 2022: Horror Fans Rejoice for Our Time Has Come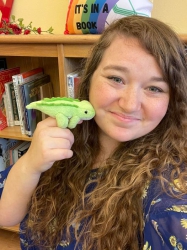 Latest posts by Lauren Darnell
(see all)