November 19th marks 10 years since Uncharted: Drake's Fortune was first released for the PlayStation 3. It would be the start of a fantastic action/adventure series complete with death-defying escapes, treasure hunting, lost civilizations, close bonds of friendship, dysfunctional family relationships, love, revenge, and everything else in between.  Not mention the incredible voice performances by Nolan North (Nathan), Troy Baker (Samuel), Richard McGonagle (Sully), Emily Rose (Elena), Claudia Black (Chloe), Laura Bailey (Nadine), and many others.
While Naughty Dog knew that the first game would be something special for them as a studio, I don't think they knew exactly the impact the franchise would have. 10 years later, there have been 4 main titles games including Drake's Fortune, Uncharted 2: Among Thieves, Uncharted 3: Drake's Deception and Uncharted 4: A Thief's End, and 4 spin-offs with Uncharted: Golden Abyss, Uncharted: Fight for Fortune, Uncharted: Fortune Hunter, and the recently released Uncharted: The Lost Legacy.  Naughty Dog has won numerous gaming awards for their efforts over the years and now there is an Uncharted movie in the works. Not bad for a "small" studio.
Related: Video Game Review – Uncharted: The Nathan Drake Collection
To commemorate Uncharted and its fans, Naughty Dog will be holding a month-long celebration starting today and ending at the PlayStation Experience 2017. Fans can download a new PlayStation 4 theme and avatars if they look for the Uncharted 10th Anniversary Bundle in the PlayStation Store.  
For multiplayer, Naughty Dog will be offering a few goodies. They will be giving away an Uncharted 10th Anniversary skins bundle for Uncharted 4 and The Lost Legacy. These will be new skins for Nate, Elena, and Sully. Up until December 19th, there will be a 50% off sale for Uncharted Point and Relic items.
Related: New Development's for Sony's Uncharted Film
At the PlayStation Experience, there will be special events and panels including a retrospective featuring members of the cast (December 9th at 5pm) and a show floor puzzle room featuring a full-size recreation of Nate's Attic. There will also be special merchandise to buy at the gear store.
The PlayStation Experience happens on December 9th and 10th at the Anaheim Convention Center in Anaheim, California. You can find out more about the event by checking out the website.
You can see watch a Uncharted 10 Years Retrospective below and take a quick trip down Nostalgia Lane in the Gallery.
Gallery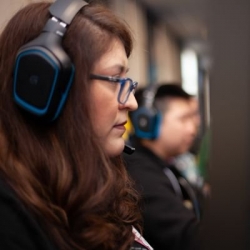 Latest posts by Renee Lopez
(see all)