Mark your calendars! National Engineers Week is February 19th-25th and NASA's Digital Learning Network (DLN) will be celebrating female Engineers with an Introduce a Girl to Engineering live event hosted by the Kennedy Space Center.
The event will be on Thursday February 23rd starting at 6 am PST/9am EST. Every hour there will be a 30-minute event focused on women in engineering at NASA.Viewers can submit questions via Twitter using the hashtag #askDLN or they can send an email to DLiNfochannel@gmail.com.  Three schools will also be chosen to participate in the LIVE Q&A panels with any of the speakers.
Scheduled Events: 
6am PST/9am EST

– Kick-off with Nancy Bray, Director of Spaceport Integration and Services, Kennedy Space Center
7am PST/ 10am EST – Ashlie Fiegel, Aerospace Research Engineer, Glenn Research Center
8am PST/11am EST – Charlie Blackwell-Tompson, GSDO Launch Director, Kennedy Space Center
9am PST/12pm EST – (in Spanish) Jessica Parsons, Integration Engineer, Kennedy Space Center 
10am PST/1pm EST – Shideh Naderi, Electrical Engineer, Armstrong Flight Research Center
11am PST/2pm EST – Jill Marlowe, Director of Research, Langley Research Center
12pm PST/3pm EST – Ali Luna, Electrostatic Discharge (ESD) Program Director, Ames Research Center
1pm PST/4pm EST – Cinda Chullen, Advanced Spacesuit Project Manager, Johnson Space Center
You can register to watch here or you can watch it on DLiNfo Channel.
As someone who was once interested in studying Aerospace Engineering, I am very excited for this event and I hope it continues for many years to come. Fingers crossed that there will be more events like this one for other STEM fields.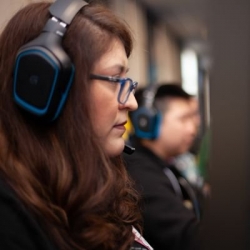 Latest posts by Renee Lopez
(see all)