After almost a decade of pleading from fans, BioWare finally confirmed what so many gamers have wished for months now: the Mass Effect remaster is coming soon! BioWare released a short teaser that offers our first true look at Mass Effect: Legendary Edition.
The teaser shows off some of our fan-favorite characters (Garrus, Mordin, and more) in beautiful current-gen graphics, thanks to the incredible talent of BioWare's developers.
Not only does Mass Effect: Legendary Edition offer the entire Shepard trilogy of games and all their DLC, but it also offers modernized upgrades to graphics and gameplay. Resolution, framerates, and other visual enhancements have all been optimized to 4K Ultra HD.
"For many months now, our team at BioWare has been hard at work updating the textures, shaders, models, effects, and technical features of three enormous games," said BioWare in an official press release, "Our goal was not to remake or reimagine the original games, but to modernize the experience so that fans and new players can experience the original work in its best possible form."
And the best part? Mass Effect: Legendary Edition comes to PC, PlayStation 4, and Xbox One in Spring 2021! But never fear about your Xbox Series X and PlayStation 5 preorders: the Legendary Edition has forward compatibility with next-gen consoles.
RELATED: The Medium Has Been Delayed to 2021
No official word on what this means for the future of Mass Effect: Andromeda, which expanded the Mass Effect universe in 2017 into the Andromeda Galaxy. But for now, let's all just enjoy that Shepard is back with the love interest(s) we all feel overly attached to (admit it: if you've played the games, you have at least one) to break some more Reapers!
Gallery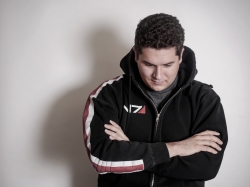 Latest posts by Tyler Boyce
(see all)