Standing approximately seven feet tall, covered in fur and sporting razor-sharp claws, a new werewolf has entered the ring. From Lightbulb Film Distribution comes a bloody tale of a vicious lycanthrope, Wolf Manor aka, Scream of the Wolf. Here are some thoughts to help you decide about picking this one up.
About Wolf Manor
While filming a low-budget vampire movie, the cast and crew start dying violent deaths. Unfortunately, the team decided to film in an old abandoned house, the property of which holds a secret. A beast is stalking the film set and choosing victims, seemingly at random. It will not stop until carnage covers every surface.
RELATED: Underrated Horror Movie of the Month: The Howling: Reborn
Wolf Manor stars James Fleet, Jay Taylor, Sade Malone, Morgan Rees-Davies, Thalia Zucchi and Nicky Evans. Joel Ferrari and Pete Wild wrote the movie and Dominic Brunt directed.
Lightbulb Film Distribution saw great potential in this film.
"What drew us to Wolf Manor is that it's a thoroughly entertaining ride, which doesn't take itself too seriously. The production team and cast have clearly had a lot of fun making this gory, creature feature and the end result is something very special. We are very much looking forward to releasing Wolf Manor to UK & Ireland audiences in January 2023," commented Lightbulb Film Distribution's Commercial Director, Matthew Kreuzer.
My Thoughts
Any time I talk about a werewolf movie, I preface my opinions with the fact that I am a sucker for all things werewolf. With that said, here we go.
RELATED: Horror With a Side of Cheese: WolfCop
Wolf Manor is, without a doubt, a love letter to other films in the subgenre. Specifically, I noticed many references to The Wolfman. There are character similarities and story elements. The iconic wolf head cane is featured. Some of the other movies referenced include Cursed, An American Werewolf in London, and The Howling. 
Along the same topic, the creature greatly resembles the beasts seen in Cursed and The Howling. It is almost like a mashup of the two. The one complaint I have about the way the beast looks is the abs. In all of the lycanthrope-centered films I've seen, I do not think I have ever come across a werewolf with a six-pack. It threw me off a bit as it looked weird and almost as if it was not part of the rest of the costume. Otherwise, the werewolf has a creepy appearance and is realistic.
RELATED: Every Saw Movie, Ranked
The story is enjoyable. There is not extensive character development, but it is a monster slasher, so that element is not super important. Everything moves at a decent pace. The main issue, to me, is that it takes a hot minute before viewers see the beast. I wanted to see it sooner.
It is important to note that the blood and guts aspect is well done. The effects are not over the top, nor is blood overused. It is there for shock value and realism, not theatrics, which I highly approve of.
RELATED: Check out all of our other movie reviews!
I can not give enough props to Vince Knight, the cinematographer for Wolf Manor. The opening scene feels like an old-school, low-budget vampire movie being filmed. Later on, as the werewolf begins to hunt, the scenery almost appears black and white, which I loved!
Final Thoughts
This film is blood, epic werewolf horror and I recommend watching it if you enjoy that subgenre. There is an after-credits scene that you do not want to miss. It explains a few things and gives, even more The Wolfman vibes and references.
RELATED: Movie Review: Bodies Bodies Bodies
Wolf Manor releases on DVD and digital download on Jan. 9. 
Are you going to watch this movie? Let us know in the comments! In the meantime, check out the trailer below and then head to the comments to share your thoughts.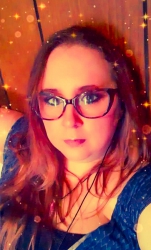 Latest posts by Becca Stalnaker
(see all)