Disney, Disney, Disney, they are the box-office giant which won't quit. We had
Avengers: Endgame
this summer and are less than a month away from
Star Wars: The Rise of Skywalker
. However, before that chaos hits, we have yet another strong and memorable Disney installment in
Frozen II
. The movie is the much anticipated follow-up to the ultra-popular 2013 Disney film
Frozen
. The picture was such a landslide success for the House of Mouse… could anything manage to keep pace with the original?
Frozen II
sees the action return to the mythical land of Arendelle. Sisters Anna (
Kristen Bell
) and Elsa (
Idina Menzel
) are doing just fine. Life is good! Olaf (
Josh Gad
) is enjoying his new experiences with the sisters and Kristoff (the always adorable
Jonathan Groff
) is trying to crack the always tricky marriage proposal. Unfortunately, a mysterious voice from a far away lands sends the sisters trying to solve an old family mystery, and they end up discovering more than they were expecting.
Jennifer Lee
and
Chris Buck
direct the film from a script by Lee and
Allison Schroeder
.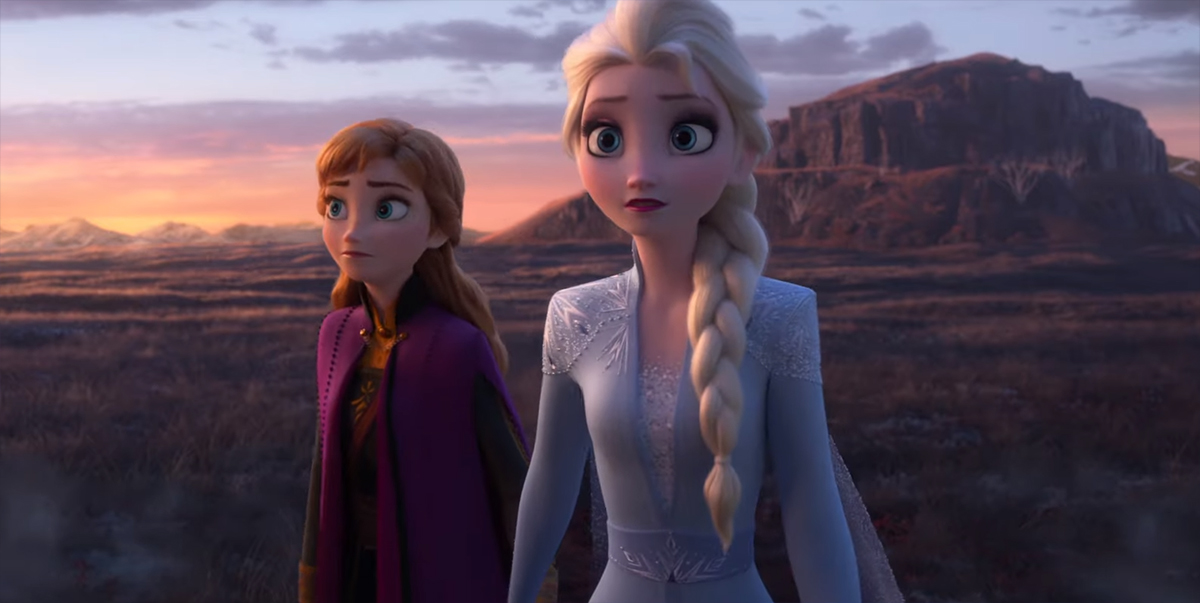 I'm an admitted Disney-phile who came of age in the Michael Eisner era of the 1990s. While Belle and Jasmine are some of my favorite "Disney Princesses", I wish I had figures like Anna and Elsa as a child. In this series, the movie crafts one of my favorite sister relationships to be captured on film. Frozen II really picks up and starts where the first one leaves off and really expands their dynamic as a pair.
In fact, it is Anna and Elsa who audiences are supposed to become invested in. This is such a welcomed change when thinking of Disney's long history of relatively "meh" romantic pairings. This installment in the franchise seems to particularly hone in on this, tackling Kristoff's narrative with an almost winking sense of humor. The fact becomes increasingly clear with Kristoff's second act ballad, "Lost in the Forest". It's definite and long standing trope in not just cinema, but literature as a whole, to see the feminine member of a couple waiting, even pining for the attention of that over-committed, priority challenged, masculine hero. He can't possibly think about love! He has monsters to fight, after all.
However, as the story plays out on-screen, it provides a rather savvy take down of the traditional gender roles, often popularized by Disney's films. Kristoff is pushed almost into the periphery. While Anna and Elsa are trying to solve the problems at hand, he's busy trying to figure out how to stage his marriage proposal. While his banter with Sven keeps the plot line cute, its still easy to feel for the character as he pines for Anna's attention. However, as the narrative plays out, he also shows himself to be an ally for Anna. Thankfully, the story doesn't fall into "It's your sister or me" territory. Instead, Kristoff quickly comes to the realization that he should also be there for Anna and support her adventures… and Elsa is always going to be in their lives. In this story choice, a studio which is known for its conservatism, Frozen II presents a beautiful example of not only female relationships, but romantic ones as well.
When continuing the examination of Frozen II from a feminist perspective, it provides a complicated characterization in Elsa. From the opening strains of "Let it Go" in the first movie, its easy to get a feeling for who this woman is. There's a level of identification beyond the plucky, but safe independence of some of the earlier Disney princesses. However, as this film continues to develop and Anna continues to take shape, Elsa begins to feel almost like a collection of general "female" stereotypes crossed with "mystic" characterizations. Elsa continues to be very much a martyr, choosing to internalize problems, rather than accepting help. I'm sure plenty of us can identify with this. While Anna's life continues to develop and she grows a self outside of her family, Elsa remains very much restricted to her role. She doesn't get a boyfriend. Instead, she gets an adorable Disney sidekick. Is she Disney's first "cat lady"? Is this the franchise taking an easy way out? Or is this a seasoned take down of "feminine" stereotypes? Now this is something which only audiences can decide where they stand.
Meanwhile, Frozen II takes everything the first film started and compounds on it from a stylistic perspective. The movie is absolutely beautiful, and in places is a visual marvel (no pun intended). With each picture, the company seems to raise the stakes of what can be done using these computers. The water sequence from the trailer stands out as one of these hallmark moments, as is a horse shaped water spirit. The use of depth and texture is so beautiful onscreen, that it's almost difficult to remember how far cinema has come from the more painful moments of computer generated effects over the last two decades.
Finally, when thinking of a Disney movie… questions must be asked. These are musicals. The first film stands apart for its stellar music. "Let it Go" is a song which is chronically stuck in my head. It also isn't a huge stretch to hum a few bars of "Do You Want to Build a Snowman". While the music in Frozen II comes from Kristen Anderson Lopez and husband Robert Lopez (the songwriters on the first Frozen), these don't stand out in the same way as the earlier songs do. "Into the Unknown" doesn't pack quite the same emotional punch as "Let it Go". However, these are still toe-tappers, and when looking into perceived "negatives" for a picture, if this is all which can be said about Frozen II, that's not all bad.
Ultimately, Frozen II feels like a strong continuation of the popular Disney franchise. The movie reunites some of the best parts of the first film and still manages to develop and improve on the already highly tuned stylistic imagery. There's plenty to love here for the kids and adult fans of the series alike.
Frozen II hits theaters around the country this week.
Latest posts by Kimberly Pierce
(see all)