Welcome to this week's installment of F2P Friday, where we highlight our favorite Free-2-Play games. The video game market is oversaturated, and sometimes, hidden gems fall through the cracks. This is where we do the digging for you and feature a new F2P game we know you will enjoy every week. Let's dive in.
Monster Tiles TD
A fleet of medieval space pirates is invading the monsters' base, and it is up to you to stop them. Equipped with an army of over 35 unique monster towers, ranging from cute and colorful flower creatures to epic fire-breathing dragons, you must strategize the most effective placement of towers to optimize their powerful abilities and synergies. Unlock, upgrade, and evolve your monsters to defend the base from spacefaring knights, mages, pirates and countless other unique enemies.
RELATED: Check out more from our F2P Friday Series!
The Basics
Let's get down to the basics. Monster Tiles TD is a cross between a roguelike and a tower defense game that is surprisingly addictive. Recently, I've been in the mood to play Plants vs. Zombies again, and this scratched that itch perfectly.
Rather than zombies, it features battles between epic monsters and medieval space pirates. Players will expand and defend their base by choosing where to place a new randomly generated tile after each wave. Strategy and planning are the keys to success in the ever-changing game. 
RELATED: August's Most Anticipated Video Games
Why Should I Play?
Why should you play Monster Tiles TD? The most enticing feature of the game is the nearly unlimited replayability with the procedurally generated tiles and varied game modes. The artwork is bright and polished, complimenting the smooth game mechanics. You'll also want to turn the music up for your playthrough. 
While I didn't have any crashes or bugs, the pushing of the game store was slightly obtrusive sometimes. I never paid for any of the content and still enjoyed the game immensely, but some moments felt like a mobile game-esque microtransaction shakedown.
Ready to hit the road? You can download Monster Tiles TD for free from Steam here!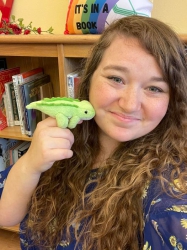 Latest posts by Lauren Darnell
(see all)