Welcome to this week's installment of F2P Friday, where we highlight our favorite Free-2-Play games. The video game market is oversaturated, and sometimes, hidden gems fall through the cracks. This is where we dig for you and feature a new F2P game we know you will enjoy every week. Let's dive in.
MONOTONIA: First Contact
MONOTONIA: First Contact is a psychological thriller in the form of a 2-D side-scrolling platform. The game is a prologue-style experience for the developer, GDH Studio, released before their upcoming game, MONOTONY. Can you balance the monotony of going to work, paying bills and keeping your sanity month by month? Will you survive your shift? 
RELATED: Check out more from our F2P Friday Series!
The Basics
Let's get down to the basics. MONOTONIA: First Contact is a unique mixture of a time management game and a reflex-testing platformer. The gameplay mechanics rely on just a click of the mouse to pay bills, change level altitude, or fight off the forces of evil. 
When playing through the levels, you'll guide a cloud avatar through a field of spikes to collect bundles of energy for your company. While working, you will accrue debt that needs to be paid on top of your normal monthly expenses. This portion of the game relies on some light time management skills to balance your budget. Defaulting on your debt is not an option. 
Why Should I Play?
RELATED: GGA's Most Anticipated Video Games Dropping in 2023
Why should you play MONOTONIA: First Contact? The atmosphere is what pulled me into this game from the opening. This game really nails the uncomfortable, creepy factor to set the tone of the game. This leaves your imagination to do most of the heavy lifting as you try to decipher if the eye is watching you or if a note is new. 
The game also supports a decent amount of replayability. Because so little is explained at the beginning, it is possible to fail and have to start again. I played for about 40 minutes and felt like I saw a decent amount of what it has to offer. 
Ready to jump into MONOTONIA: First Contact? You can download the game for free on Steam here!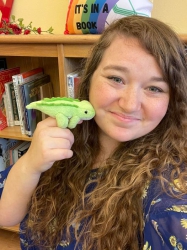 Latest posts by Lauren Darnell
(see all)