Ahoy! Avast! Arrr! In just four days, you and your friends will be able to embark on a journey for glory and riches. To ramp up the excitement for the March 20 release, developer Rare and publisher Microsoft Studios has just released the official gameplay launch trailer for Sea of Thieves.
Sea of Thieves promises to give players the ultimate pirate experience as they take to the high seas either alone or with their friends. This game will be released on Xbox One and PC so there will be cross-platform capabilities which will allow everyone to play together.
Related: New Hearthstone Expansion Takes Us to The Witchwood
This is a shared world game, which means that you and your crew will not only have to deal with environmental dangers but also challenges from other pirate crews. If you've seen some of the gameplay videos from people who have been participating the Technical Alpha, then you know that things can get very interesting if there are more than one crew at any given location.
If you pre-order now, you will receive the Black Dog Pack. Microsoft also just announced that you can get Sea of Thieves as part of an Xbox One S bundle for $299.99. In addition to the bundle, if you buy an Xbox One X, you can get Sea of Thieves for free (only at participating retailers, of course).
You can watch the trailer below and for more information the game, you can check out the Sea of Thieves website.
Sea of Thieves will be released on March 20 for Xbox One and PC for $59.99.
[Images courtesy of Microsoft Studios]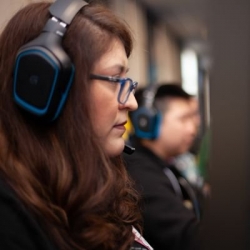 Latest posts by Renee Lopez
(see all)