Rhythm games, for the most part, have been all about Guitar Hero and Rock Band. Fortunately, for those of us who love RPGs, we'll be able to get our hands on The Metronomicon: Slay the Dance Floor at the end of August. PlayStation 4 users will be able to access the game on Tuesday, August 29th while Xbox One users will get to play the game on Wednesday, August 30th.  The game will be available for digital download for $19.99 on both systems.
The live action trailer shows the combination of the fast-paced playstyle with a great soundtrack. In the game you can control up to four characters who each have their own class-based skills. As you fight off enemies, you have to switch between these character to activate their unique abilities. In order to use the abilities you have to successfully hit a sequence of notes as they come down a fret. Like Rock Band, the notes are synced with the music. The music, one of the key features of the game, comes from alternative and indie artists like Jimmy Urine of Mindless Self-Indulgence, Mega Ran, DJ CUTMAN, and Shiny Toy Guns.
If you want to learn more about the game, check out our hands-on preview of the game from E3 2017.
You can see the live action trailer below and be prepared to…slay the dance floor.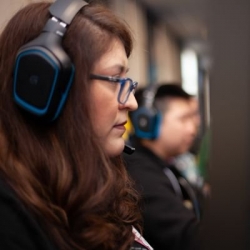 Latest posts by Renee Lopez
(see all)