On November 18th, Minecraft developer Mojang held their 90-minute MineCon live stream. Hosted by actor, Will Arnett, the studio announced a few major updates coming to Minecraft. These announcements, while important, were nothing compared to The Super Duper Minecraft Musical.
Minecraft fans might recall the announcement made at E3 2017 about the "Better Together" Update. This update would allow cross-platform play across all devices. Any edition available for purchase now will have this update and it applies to all systems: Xbox One, PlayStation 4, PC, VR, iOS, and Android.  Nintendo Switch players will have to wait until 2018 for this update.
However, Mojang decided to add a little something more for the upgraded 4K Ultra Hi-Def systems, particularly high-end PCs and Xbox One X. Dubbed the "Super Duper Graphics Pack," this optional DLC upgrade will give players fancy enhanced graphics.
Related: Jonathan Groff Brings Mindhunter The Musical to The Late Show
To commemorate the occasion, Mojang brought in Supergirl star Melissa Benoist and her incredible voice to sing in "The Super Duper Minecraft Musical." For those of us who follow her work, we already knew she had the singing chops after her work on Glee and The Flash/Supergirl crossover musical, but if you haven't had the opportunity to listen to her, you can watch the video below and get your Minecraft groove on.
The Super Duper Graphics Pack will be available in 2018. You can see some screenshots below in the Gallery, after your treat your ears.
Gallery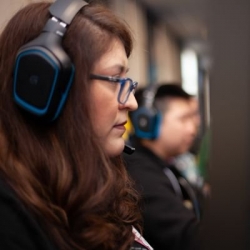 Latest posts by Renee Lopez
(see all)