Welcome to this week's installment of F2P Friday, where we highlight our favorite Free-2-Play games. The video game market is oversaturated, and sometimes hidden gems can fall through the cracks. This is where we do all the digging for you and feature a new F2P game we know you will enjoy every week. Let's dive in.
Margo 
Margo has fallen victim to an unintended nap. You'll play as the titular character, Margo helping her wake up, gather items around her apartment and get her day back on track.
WARNING: Margo deals with themes of mental illness and nihilism that may upset some players. 
The Basics 
Let's get down to basics. Have you ever wanted to play a game set in the world of a Salvador Dali painting? It is an odd musing, but you can almost achieve it with this game. Margo is a surreal point-and-click narrative game. The gameplay here is pretty low-effort, with minimal puzzle elements that pay off with a unique story. 
One of the major gameplay aspects is the collection element. You'll move through Margo's world and collect items in the environment to solve various puzzles by dragging them out of the bag. The tasks are all fairly straightforward to figure out and give you plenty of time to concentrate on the surrealist art style. 
RELATED: Check out more from our F2P Friday Series!
Why Should I Play?
Why should you play Margo? Margo is a truly unique experience. Is it a dream? Is the ending sorrowful or simply confusing? That will be for you to decide. 
The game can be finished in under half an hour, so it's easy to fit into an afternoon or between longer gaming experiences. That said, it will take you a couple of playthroughs to mop up all the achievements. 
Ready to wander through the life of Margo for yourself? Check it out on Steam for free here!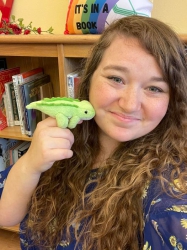 Latest posts by Lauren Darnell
(see all)