There was an exciting bit of news coming out of the Game Developers Conference (GDC). Quantic Dream announced that three of their titles: Detroit: Become Human, Beyond: Two Souls, and Heavy Rain will be making their way to PC this year.
In a deal made with Epic Games, these titles will only be available exclusively through the Epic Games Store for the next year.
Thrilled to announce that HEAVY RAIN, BEYOND: TWO SOULS and DETROIT: BECOME HUMAN will release later this year for the first time on PC in the @EpicGames Store. #QuanticDream #HeavyRainPC #BeyondTwoSoulsPC #DetroitBecomeHumanPC #EpicGamesStore pic.twitter.com/bjW08ZrbCD

— QUANTIC DREAM #DetroitBecomeHuman (@Quantic_Dream) March 20, 2019
For anyone who missed out on the PlayStation 4 Exclusive Detroit: Become Human that released last May, this is their chance to experience what I think was one of the best games of 2018. The compelling stories of three androids, Connor, Kara, and Markus, took players on an emotional journey. With numerous outcomes to explore, the game focused on player choices and the consequences of those choices.
RELATED: Halo: The Master Chief Collection Announced for PC
Beyond: Two Souls, released for the PlayStation 3, PlayStation 4, and Windows in 2013, is another interactive action-adventure game in which players assume the role of Jodie and her soul-linked, incorporeal partner Alden. Like Detroit: Become Human, choices are what drives the story forward as Jodie tries to understand her link to Alden.
And if you didn't have enough interactive, action-adventure games, there is also Heavy Rain, a 2010 game was released on the PlayStation 3, PlayStation 4 and PC. In this game, players take on the role of 4 different characters as they try to solve the mystery of the serial murderer, the Origami Killer.
With the addition of these Quantic Dream titles, it looks like Epic Games is making a strong play for exclusive titles, locking out the streaming platform giant Steam. No date has been announced as to when these games will be available through the Epic Games Store but perhaps more information will be revealed at E3 2019.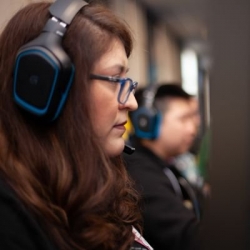 Latest posts by Renee Lopez
(see all)