Everyone get ready, it's time for major Overwatch League news.
It seems like everything is falling into place with the new league. Blizzard Entertainment revealed their new Blizzard Arena Los Angeles venue which will be home to the Overwatch League. Preseason play starts next month on December 6th with the first regular season match happening on January 10, 2018 and the playoffs and finals occurring in July.
Related: Blizzard Announces New Esports Venue Blizzard Arena Los Angeles
In addition to getting the enormous state-of-the-art arena up and running, Blizzard just announced that they have secured a multiyear sponsorship with HP Inc. and Intel. As part of the deal, Intel will sponsor not only Overwatch League games, but also any other Overwatch League event. HP will provide the hardware including their OMEN by HP gaming PCs which will be used exclusively for Overwatch League games.
"We're thrilled to be joining forces with HP and Intel to ensure that the teams competing professionally in Overwatch are equipped with top-end technology," said Pete Vlastelica, president & CEO of Blizzard Entertainment's Major League Gaming division in a press release. "Multiyear collaborations such as this illustrate the momentum behind the Overwatch League as well as a long-term commitment by us and our partners in what we see as the future of esports."
"For more than 12 years Intel has consistently supported the esports community and we're always looking for ways to help improve how they play, watch, and compete. We're proud to sponsor the Overwatch League and equip all competition PCs with Intel® Core™ i7 processors to contribute to a great experience for fans and competitors," said John Bonini, Intel VP and general manager of the VR, gaming, and esports group. "The Overwatch League will be a great showcase for esports, and we're excited to be a part of it with Blizzard."
This deal shows how much stock Blizzard and its sponsors are putting into the Overwatch League. And it's no surprise, the rise if esports over the past decade has been remarkable and attracting key demographics has been a boon for Blizzard. Esports is now at a competitive level with any of the major sports, as proven by the fact that esport games have been nationally televised on ESPN and TBS. While esports thrives on nontraditional settings like YouTube, Facebook Live and Twitch, it's presence on TV just shows how far it's come.
The 12 Overwatch League Teams
Now that the major sponsors are in place and the venue is set, we can now look at the 12 inaugural teams of the Overwatch League. These city-based teams come from North America, Europe and Asia.  
For more information about the Overwatch League, check out their website.
Florida Mayhem (Miami)
Team Owner: Misfits Gaming
Twitter: @FLMayhem
Team Colors: Yellow, red, and black
"We are excited to finally reveal Florida Mayhem. Our primary objective was and is to hit home with Floridians," said Ben Spoont, CEO of Florida Mayhem and Misfits Gaming said in their official press release. "Florida is an ebullient state full of dedicated, passionate, and hardworking people, values we share as a local company. We're excited to stand out among the rest and come in with a bang after such strong performances throughout the duration of Overwatch Contenders. We aim to make Florida proud with our explosive (pun intended) playstyle!"
Boston Uprising
Team Owner: Robert and Jonathan Kraft
Twitter: @BostonUprising
Team Colors: Blue, black, and yellow
"We are excited to unveil our team name, logo and colors for our newest sports property," said Robert Kraft, chairman and CEO of the Kraft Group, in a press release. "Esports already has a large global audience, with Overwatch being among the most popular games with more than 35 million players worldwide. We look forward to introducing sports fans in Boston to the new Overwatch League with a local team they can support. We are also eager to use the Boston Uprising to introduce Boston and our franchise to the global community of esports. We are currently assembling a team that we anticipate will compete for championships, as Boston sports fans have come to expect from all of their professional teams."
Dallas Fuel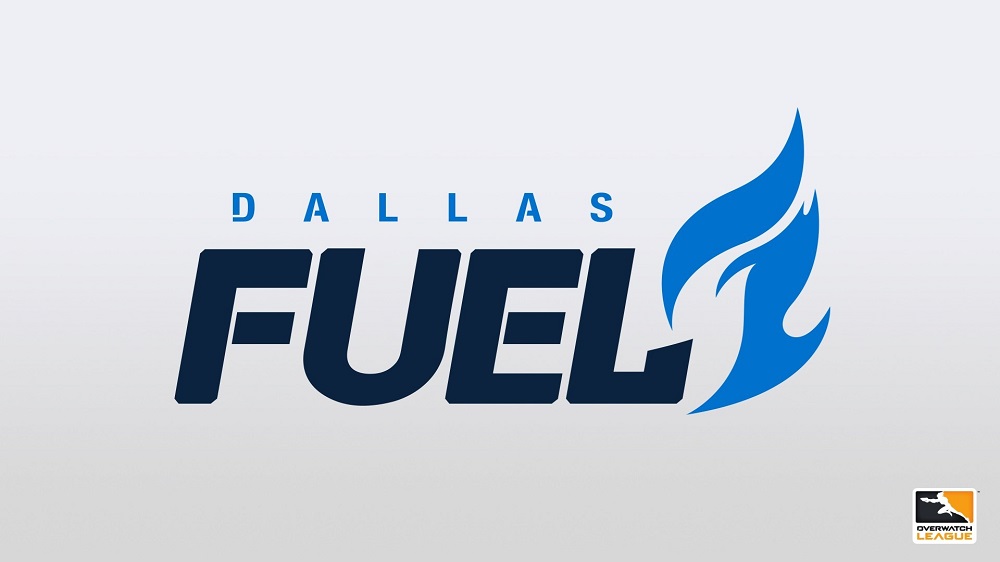 Team Owner: Team Envy
Twitter: @DallasFuel
Team Colors: Dark Blue, light blue, and grey
"We're thrilled to bring a championship-caliber franchise to the area with the Dallas Fuel," said Mike Rufail, the Texas-born owner and CEO of Team Envy, in a press release. "In choosing a name, we wanted to speak to our Texas roots, connect with the legacy of our partners Ken Hersh and the Hersh Interactive Group, and provide a rallying cry for local fans as esports continues to grow. Fuel accomplishes that, and the Dallas Fuel is a team we're proud to permanently plant in Texas."
Houston Outlaws
Team Owner: OpTic Gaming
Twitter: @OutlawsOW
Team Colors: Lime green, black, and white
"I'm incredibly excited to finally be able to reveal this roster, and I could not be prouder of the final result," said Outlaws General Manager Matt Rodriguez in a press release. "Every player has such a distinct personality, and all of them are pumped to be able to call each other teammates. The mindset and the attitude of the team have been inspiring thus far, and we will continue developing and promoting a winning mentality throughout the inaugural season of the Overwatch League and beyond for the city of Houston."
London Spitfire
Team Owner: Cloud9
Team Colors: Light Blue, navy blue, and yellow
"We're excited to represent London in the Overwatch League with the Spitfire," said Jack Etienne, Owner of Cloud9 in a press release. "We've put together a fantastic team and are anxious to see them in action in the debut season of the Overwatch League early next year."
Los Angeles Valiant
Team Owner: Immortals
Twitter: @LAValiant
Team Colors: Green, black, and yellow
"We're thrilled to unveil the Valiant, L.A.'s newest professional franchise," said Immortals CEO Noah Whinston in a press release. "The opportunity to build a new sporting brand in the entertainment capital of the world is one we do not take lightly, and we thought long and hard about brand elements that would connect our Overwatch League franchise to the core values of Immortals, and to this iconic city. At the same time, we wanted a brand that was strong and distinctive enough to stand on its own and prioritized a brand, colors, and logo that emphasized the commitment to competitive excellence and championships that Los Angeles expects from its teams. We've achieved that with 'Valiant.' Signifying heroism and demonstrating courage, bravery, and determination — that's who we are and who we will always strive to be."
New York Excelsior
Team Owner: Sterling VC
Twitter: @NYXL
Team Colors: Navy blue, royal blue, and red
"It is an amazing opportunity to have NYXL be part of a brand new professional league and representing the city of New York," said Jeff Wilpon, Co-Founder and Partner at Sterling.VC, in a press release. "We've put together a strong team and look forward to competing at the highest level."
Philadelphia Fusion
Team Owner: Comcast Spectacor
Twitter: @PHL_Fusion
Team Colors: Orange, black, and white
"We are thrilled to introduce the Philadelphia Fusion brand and team colors as we continue our exciting march toward the start of the season," said Dave Scott in a press release. "Orange and black are colors of passion here in Philadelphia, and we are proud to incorporate them as we continue to formulate our coaching staff and roster of players."
San Francisco Shock
Team Owner: NRG Esports
Twitter: @SFShock
Team Colors: Red, grey, and yellow
"There is no better market to establish as the epicenter of esports than San Francisco," said Andy Miller, Founder and CEO of NRG Esports, parent organization of the San Francisco Shock, in a press release. "We are so excited to bring a hometown esports team to the region that has been central to the growth of gaming in North America."
Seoul Dynasty
Team Owner: Kevin Chou
Twitter: @SeoulDynasty
Team Colors: Black, gold, white
"Seoul is the birthplace of modern-day esports and holds a significant place in history, in addition to being the long-standing capital of the Joseon Dynasty and modern-day Korea," said Seoul Dynasty owner Kevin Chou in a press release. "We have a tremendous responsibility to represent the best of Seoul on a global stage."
Shanghai Dragons
Team Owner: NetEase
Twitter: @ShanghaiDragons
Team Colors: Red, black, and yellow
"We aim to create more high-quality and innovative products for gamers around the world. The Overwatch League is an opportunity we didn't want to miss because of the opportunity to earn audiences' excitement and loyalty through world-class esports competition," said William Ding, the CEO of NetEase, in a press release.
Los Angeles Gladiators
Team Owner: Stan and Josh Kroenke
Twitter: @LAGladiators
Team Colors: Purple, black, and white
"Gladiators were the original superstars of sports and entertainment. Their fierce competitiveness and willingness to make the ultimate sacrifice captured the hearts of millions of people of all backgrounds for centuries. Those epic battles became the foundation for modern-day sports. Their impact still resonates on the silver screen, with scores of films chronicling the rise of the gladiators and their importance to societies of yesteryear," said Josh Kroenke, CO-founder of KSE Esports and President of the NBA's Denver Nuggets and the NHL's Colorado Avalanche, in a press release. "It's with that spirit in mind that we chose LA Gladiators as the name for Los Angeles' newest professional team."
[Artwork/Photos: Blizzard]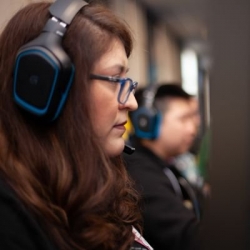 Latest posts by Renee Lopez
(see all)