The last few years have been tough all around and as a result, I've really gotten into cozy, loving video games. I've started to gravitate towards games with complex, deeply emotional characters and eventually gameplay became second to the feelings that I get from the game. And I know I wasn't the only person who has felt this way over the last few years. So, I pulled together a list of some of my favorite games that gave me the warm fuzzies because everyone could use a little extra love just in time for Valentine's Day.
RELATED: 9 Things You Should Know Before Starting Cozy Grove
Spiritfarer
First one our list of loving video games is Spiritfarer. It is an open-world adventure game from Thunder Lotus Games with boat/base building and exploration themes at its core. The gameplay is diverse, the music is captivating, and the visuals are simply stunning. That would be enough to start the game, but it's the story of the lost souls you are ferrying into the next life and Stella's story that will have you putting hours into this game. It's tough to let them go once you get to know the characters, even when you know it's their time. Thankfully, you always get one last hug to leave the partings on a good note. Not to mention this one has couch co-op! Someone can play as Stella's cat to help collect materials and comfort wayward spirits.
Spiritfarer is available on Mac, PC, PlayStation 4, Xbox One and the Nintendo Switch.
Unpacking
Another loving video game on our list is Unpacking! It is a straightforward puzzle game from Witch Beam about unpacking boxes on the surface. As unassuming as it seems on the first level, the devil is in the details with this game. You'll find yourself smiling at worn stuffed animals and chipped coffee mugs as you progress through the levels. The game gives you no story dialogue to help you unpack its mysteries but instead builds on your own emotions of starting over, moving out, and moving on. Just don't forget to leave the sound on and let the feels wash over you!
Unpacking is available on Mac, PC, Xbox One and the Nintendo Switch.
Dream Daddy
Dream Daddy is a daddy dating sim by Game Grumps and it's everything I never knew I needed. While all dating simulations have the same goal of telling a story through romance, but the dads in Dream Daddy hold a special place in my heart. It is truly rewarding to peel back the layers of the various dad's personalities and integrate into their family life. Because this is a dating simulation, there's no wrong way to play and your playthrough may not feel exactly like mine. It's just like finding love in the real world. No two stories are exactly the same. What are you waiting for? Find your dream daddy today!
Dream Daddy is available on Mac, PC, Xbox One, the Nintendo Switch, Android and iOS.
King's Quest The Complete Collection
King's Quest The Complete Collection is actually just the newest installment in Sierra Entertainment's King's Quest series. This iteration of King Graham's story is a branching story point and click type adventure. Each chapter is a different part of the king's past and future. The backgrounds are hand-painted and give the game the feeling of a storybook brought to life. With that storybook vision comes feelings of family, friendship, dedication, loyalty, and a sense of chivalry that is all but absent from this century. Heavy on humor and heart, this is one adventure you just can't sit out.
King's Question The Complete Collection is available on PC, Xbox One and PS4.
RELATED: Horizon Zero Dawn: Retracing Aloy's Steps Once More
Deltarune
Deltarune is the newest RPG from the acclaimed game designer Toby Fox who made Undertale. However, the two games are supposedly not connected though some of the characters overlap. The story of Deltarune so far follows the misadventures of a band of teenage monsters in the underground. The character designs are memorable, the missions are surprising and the music is enchanting. What lands it on this list is the friendship between your character, a human named Kris, and your motley crew of world-saving delinquents. Their relationship is an intriguing mix of The Goonies meets Stand By Me in the dark. It's lovely. It will make you feel lovely. Just play it and don't come for me if future chapters break your heart.
Deltarune is available on Mac, PC, PS4 and the Nintendo Switch.
Cozy Grove
A loving video game that I adore is Cozy Grove from Spry Fox. It is a life simulator where you play as a new spirit scout (think Girl Scout for ghosts) who is helping the residents of the titular island come to peace with their existence. This game pulled me out of my gaming slump. The resident bears of the island may be otherworldly, but their stories do a lot to warm my heart. The writing of this game reminded me a lot of Spiritfarer and you can even hug the spirits! The difference for me is you don't have to let go of your friends in this one and that's absolute comfort. Put down roots and pull up a chair around the fire! You always have friends in Cozy Grove.
Cozy Grove is available on PC, Xbox One, Xbox Series X, PS4, PlayStation 5 and the Nintendo Switch.
Little Dragon Cafe
Little Dragon Café is an open-world restaurant simulator from TOYBOX Inc. The interesting thing about this one is even though you work with your sibling at a café started by your mother, the real love in the game is through your found family. Between cooking specials, delivering food, finding recipes, clearing tables, tending the farm, and oh yeah, RAISING A DRAGON, you'll be aching for more time in the day to unlock new cut scenes with your favorite character. If all of that doesn't draw you in, soaring on the back of a dragon is sure to keep you around.
Little Dragon Cafe is available on PS4 and the Nintendo Switch.
Monster Prom XXL
I know there is already a dating sim on this list, but seeing as I wrote it, I make the rules! This is Monster Prom XXL from Beautiful Glitch. The monster dating simulation where you are in a race to ask out an ideal date to the prom. Are the characters sweet? No. Do most of them seem to really like you? Also no. Is it romantic? Not really. Why is it on this list? Well, because it makes me feel like I'm one of the cool kids, which is something I missed out on in high school and I LOVE that feeling. Some of the characters are endearing and I find myself trying to befriend them with every new playthrough. You may not find your soul mate for monster prom (even with the ghost), but you will come away with a smile.
Monster Prom is available on Mac, PC and the Nintendo Switch.
This article was originally published on 2/14/22.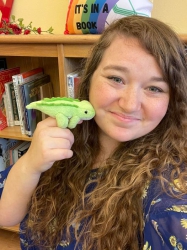 Latest posts by Lauren Darnell
(see all)