It's almost June, meaning Pride month is around the corner! In honor of this, we have a list of indie video games that have been killing it with the LGBTQ+ representation for you to play. Not all of these games have LGBTQ+ protagonists specifically, but they all contain characters and relationships that are canonically queer.  
There might be minor spoilers for the games as you read through this list. Consider this your warning! 
RELATED: F2P Friday: Island Saver
Coffee Talk (2020)
Coffee Talk by Toge Productions has you clocking in for your shift as a barista at a coffee shop only open at night. It is a narrative adventure game that plays like a visual novel, so the gameplay consists of point-and-click elements. Brewing customer orders is the most unique mechanic, but it doesn't detract from the story.
Coffee Talk's story and LGBTQ+ content come through the dialogue you overhear while serving the human and nonhuman patrons. I had this game on my wishlist for nearly two years, and my only regret was not playing it sooner. Coffee Talk is available on Nintendo Switch, PlayStation 4, Xbox One, Microsoft Windows and macOS.
Unpacking (2021)
Unpacking is a puzzle game by Humble Studios and Witch Beam that I've talked about before. There is no dialogue in this game, just boxes for you to unpack as you move onto the next stage of your life. If you pay close attention, the context clues suggest your character is under the bisexual umbrella. What's more, there is evidence of the same-sex couple starting a family together in the last stage of the game. 
Unpacking is a unique, emotional gaming experience about packing up and moving on. It is one of my favorite games to come out recently and manages to tell a complete story without a single line of dialogue. Unpacking is available on Nintendo Switch, PlayStation 4, PlayStation 5, Xbox One, Xbox Series X/S, Microsoft Windows and macOS.
Night in the Woods (2017)
Night in the Woods is one of my favorite games from the brilliant minds at Infinite Fall and Secret Lab. The gameplay style mixes several different styles with a branching narrative. There's a mini-game to play, first and third-person sections, platforming and even rhythm sections. The music is surprisingly good. I unironically have covers of several of the songs on my playlist.
It makes the list today because it has one of my favorite same-sex couples, Greg and Angus. The themes in the game are dark, so be aware of that going in, but it is worth a playthrough! Night in the Woods is available on Nintendo Switch, PlayStation 4, Xbox One, Microsoft Windows and macOS.
LongStory (2014)
LongStory is described as a charming and LGBTQ+ inclusive dating sim by Bloom Digital. While the game is marketed as a dating sim, it is set at a middle school, so the gameplay isn't romance-heavy, depending on how you play. If you choose not to pursue any romantic options, the game still progresses. 
LongStory is one of the first games I ever played that allowed the player to pick they/them pronouns for the story, and that thoughtfulness is what lands it on our LGBTQ+ inclusive game list. LongStory is available on Nintendo Switch and Microsoft Windows.
RELATED: In Praise of Horizon: Forbidden West's Women of Science
Undertale (2015)
Undertale is a cult-classic 2D role-playing video game created by American indie developer Toby Fox. The player controls a child who has fallen into the Underground: a large, secluded region under the surface of the Earth, separated by a magical barrier. 
The way you play is up to you, either merciful or full of bloodlust, and both runs have merit. I'm a fan of the pacifist run myself, as it allows the player to explore the relationship between Undyne and Alphys, a.k.a. the best lesbians in gaming. Undertale is available on Nintendo Switch, PlayStation 4, Xbox One, Microsoft Windows and macOS.
Ikenfell (2020)
Ikenfell is a solid RPG by Happy Ray Games and published by Humble Games. The main plot has you playing as a magic user at a school, looking for her missing sister. The music is enchanting, the party dynamic is well-balanced and the visuals are bright and exciting. This is another game that I tragically allowed to sit on my wishlist for too long. 
The whole cast lands it on this LGBTQ-inclusive game list today. The characters are diverse and inclusive, with maybe one single straight person in the game. Ikenfell is available on Nintendo Switch, PlayStation 4, Xbox One, Microsoft Windows and macOS.
Slime Rancher (2016)
Slime Rancher is a first-person adventure simulation game developed and published by Monomi Park. You play as Beatrix, a rancher in the faraway range that raises slimes. There are unique slime breeding mechanics, bright visuals and longing letters exchanged between you and your distant flame Casey.
I played this game in early access and was delighted to see the developers adding more story over time. When the game first launched, Casey's gender was left to interpretation, but new updates confirm that Casey and Beatrix are lesbians. Slime Rancher is available on Nintendo Switch, PlayStation 4, Xbox One, Microsoft Windows and macOS. 
Spiritfarer (2020)
Spiritfarer is an open-world 2-D adventure game from Thunder Lotus Games with boat/base building and exploration themes at its core. You play as Stella, the new Spiritfarer who is helping ferry souls move on to whatever comes next. The gameplay is diverse, the music is captivating and the visuals are stunning. 
These souls aren't all unknown to Stella, including Summer. In life, Summer grew up in a strict household and left behind everything to live with her wife Rose, who was Stella's aunt. Summer's story is tragic but relatable for many. Spiritfarer is available on Nintendo Switch, PlayStation 4, Xbox One, Microsoft Windows and macOS.
That's it for this list. Have you played any of these LGBTQ-inclusive indie games? Did we miss your favorite? We love to hear from you gamers in the comments!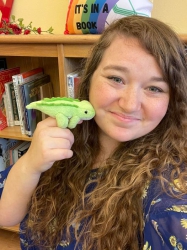 Latest posts by Lauren Darnell
(see all)