As it was announced a few days ago, BlizzCon 2018 is a go. Now we can spend the next seven months discussing what we hope to see.
This might be an interesting year for Blizzard. Usually they use BlizzCon to announce their biggest news of the year like Overwatch, and World of Warcraft and Hearthstone expansions, but this year there isn't a really a lot that could be announced. Last year the biggest announcement at BlizzCon was the addition of Moira and Blizzard World to Overwatch. They also announced World of Warcraft Classic, Kobolds and Catacombs for Hearthstone, the addition of Hanzo to Heroes of the Storm, and StarCraft II updates. Noticeably missing was Diablo III announcements.
RELATED: BlizzCon 2018 Dates and Event Details Announced
So, what big news could Blizzard have to announce this year?   
The Obvious (Or Not So Obvious?)
World of Warcraft Classic
We have not heard much about the World of Warcraft Classic server since its announcement at BlizzCon 2017. Unless Blizzard gives us some news at E3 in June or Gamescon in August, we will hopefully hear something about it at BlizzCon. Even a small update of where they are at with the server would probably be enough to keep fans excited. 
Hearthstone
We'll probably also get another Hearthstone expansion pack, even though they just released The Witchwood. Everyone loves the Hearthstone opening cinematics for their expansions so keep an eye out for a new one.  
Heroes of the Storm
A new Hero and perhaps a new map for Heroes of the Storm wouldn't be a surprise either. It's just a matter of who we'll see and what kind of map we might get. I'm crossing my fingers for a Tristram map.
Overwatch
There is a 99.99999% chance that we'll see another character added to Overwatch, and possibly a new map. There have been some rumblings about a Battle Royale mode for Overwatch, but according to a recent Kotaku article, Jeff Kaplan isn't expecting Overwatch to make that jump any time soon. Honestly, I hope not. Overwatch isn't that kind of game and the lore behind it doesn't necessarily support the "winner take all" style of a Battle Royale system.
World of Wacraft: Battle for Azeroth
With the release of Battle for Azeroth in August, there will undoubtedly be some announcements about it at BlizzCon. We can probably assume that it will be a new patch with a new raid or dungeon. 
Now let's talk about my big, shiny, pie-in-the-sky 2018 announcements. (Disclaimer: I know that these are far-fetched).
Diablo II Remastered
Diablo II is a classic game that deserves a remaster as much as StarCraft did. Diablo was fantastic, but Diablo II and Diablo II: Lords of Destruction gave us classes that were exciting to play, a storyline that was rich with lore and locales that were exciting and new. If any game deserves a remaster, it is this game.
Diablo III Anything
One thing that has been sorely missing from recent BlizzCons is Diablo III news. The game was initially released in 2012 and Reaper of Souls was released in 2014. That's a 4-year drought with nothing more than Seasonal play and the Rise of the Necromancer DLC pack that was released last year. Passionate Diablo fans, like myself, really want to see some love shown to this amazing franchise. We'll take anything at this point. Even Diablo: The Tyrael Adventures. Give us something.
Warcraft IV
Warcraft III was an amazing RTS, but it was released in 2002. Yes, Overwatch is the golden child of Blizzard's current esports offerings, but who wouldn't want to see Warcraft IV and the opportunities it would bring to the esports world. Not only that, but the lore well runs deep in the Warcraft universe, so just imagine the campaigns that could be played out and the units that would be available.
StarCraft: Ghost
Bring it back, Blizzard, it's time. When it was first announced at the inaugural BlizzCon in 2005, the hype was very much real, and when it was cancelled indefinitely, there were many of us that were incredibly disappointed. With the growing popularity of games with strong female protagonists (such as Horizon Zero Dawn, Hellblade: Senua's Sacrifice, Uncharted: The Lost Legacy, Tomb Raider, NieR 2, Tacoma, Darksiders 3), I think the time has come to revisit this game. Also, the possibility of a third-person, single-player action/adventure space opera set in the StarCraft universe is just what we need.
Nintendo Switch Games
Even though I play mostly on PC, the idea of Blizzard games on Switch is appealing. And I'm not talking current games (though those would be nice), I mean some of the old titles from the days of Silicon & Synapse and early Blizzard such as Rock N' Roll Racing, The Lost Vikings, and Blackthorne.
Heroes of the Storm Maps and Brawls
If you follow Heroes of the Storm, then you know that we have been seeing new Heroes on a consistent basis. But what we have been lacking is Battlegrounds. There are 78 heroes, but only 14 maps. It is understandable that there is a lot that goes into the creation of a map, but it seems that with all the Heroes that we've been getting, some of the maps have started to get a little played out (Haunted Mines, Blackheart's Bay, I'm looking at you). Or maybe I just want a campaign with an all-Protoss team of Probius, Alarak, Tassadar, Fenix, and Zeratul going up against and all-Zerg team of Stukov, Dehaka, Zagara, Kerrigan and Abathur.
RELATED: Stay Awhile, Deckard Cain is Coming to Heroes of the Storm
Closing Concert
As you know the BlizzCon Closing Ceremony is the amazing end to an incredible two days of Blizzard fun. Attendees and online viewers over the years have been treated to bands such as The Offspring (2005), Ozzy Osborne (2009), Tenacious D (2010), Foo Fighters (2011), Blink-182 (2013), Metallica (2014), Linkin Park (2015), "Weird" Al Yankovic (2016), and Muse (2017). This year, I submit to you my top 5 choices.
Nothing More
Slipknot
Pop Evil
Bad Religion
Papa Roach
I'm sure there are quite a few things I missed on this list, but again, the fun is in the guessing. So Blizzard faithful, what would you like to see at BlizzCon this year?
[Images courtesy of Blizzard]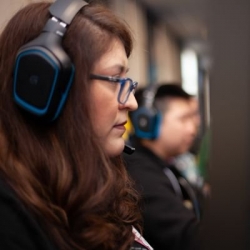 Latest posts by Renee Lopez
(see all)