Leonard Nimoy's family has donated the original Mr. Spock ear tip prosthetics from Star Trek: The Original Series to the Smithsonian National Air and Space Museum for public display. The iconic piece of science fiction history will now live long and prosper in one of the most prestigious institutes in the United States.
The ear tips will reside in the social and cultural spaceflight collection. They will rejoin other pillars of science fiction history, such as the Mothership model from Close Encounters of the Third Kind and the 11-foot studio model of the Star Trek Enterprise. 
RELATED: Read our Star Trek: Strange New Worlds recaps here!
The fact that Nimoy's family donated the ears to a place where fans can appreciate them for the rest of time rather than to a single, private collector is already a fantastic tribute to Mr. Spock. After all, the needs of the many outweigh the needs of the few. The ear tips will go on display next year in the "Kenneth C. Griffin Exploring the Planets Gallery" after they are finished being preserved, cataloged and curated for the collection's use. 
It is only logical that we include the video of the Vulcan ears unboxing the Smithsonian National Air and Space Museum uploaded to their official YouTube channel. It shows the prosthetic ears in the black shadow box that Nimoy's family says the late actor made himself. Regarding the donation, Adam Nimoy had this to say:
"When he finished filming the original Star Trek series in 1969, my father brought home a small memento to commemorate his three years of dedicated work on the original series—a pair of Spock's Vulcan ears.

Mounted in a black box, those ears have been in our family for over 50 years as a tribute to Dad's outstanding performances as Mr. Spock. And the inspiration and hope that Star Trek has given to generations of fans all over this planet.

Today it's my honor to donate the iconic Spock ears to the National Air and Space Museum, where they can be experienced by visitors firsthand. The donation honors Beit T'Shuvah and the Leonard Nimoy COPD Research Fund at UCLA. Two organizations supported by our family and dedicated to the Vulcan salutation of long life and prosperity."
Will you make the journey to see this piece of pop culture and science fiction history in person? It is something we would love to see one day!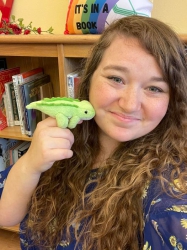 Latest posts by Lauren Darnell
(see all)