Welcome to this week's installment of F2P Friday, where we highlight our favorite Free-2-Play games. The video game market is oversaturated, and sometimes, hidden gems fall through the cracks. This is where we dig for you and feature a new F2P game we know you will enjoy every week. Let's dive in.
Last Broadcast
It's the end of the world as we know it, and I feel fine. Last Broadcast is an experimental narrative game set at a radio station at the end of the world. Host your last show as the sun turns red and the world burns down.
RELATED: Check out more from our F2P Friday Series!
The Basics 
Let's get down to the basics. Last Broadcast puts you in the hot seat of a late-night radio DJ on the final shift of their life, or anyone else's, for that matter. As the world literally burns down around you, your job is to play songs, take calls and dish out advice. 
The gameplay is simple but well-executed. Players can move around using the classic WASD keys and select dialogue from a branching narrative. Fans looking for an experience similar to Killer Frequency or fans of Welcome to Night Vale will enjoy the unconventional radio station setting and tight game mechanics. 
RELATED: September's Most Anticipated Video Games
Why Should I Play?
Why should you play Last Broadcast? The atmosphere is what absolutely drew me into this game and kept me hooked for nearly an hour of playtime. The small details in the environment add to the story building and quality of the game. The art and music are beautifully done and do much of the heavy lifting for this unique narrative adventure. 
The dialogue is also the lynchpin to any narrative drive game or visual novel, and Last Broadcast mostly delivers. Some of the voice acting feels a little out of place, but all the dialogue choices I ran through were well-written and interesting. 
Ready to go live one last time in Last Broadcast? All I know is, if I ever DJ the apocalypse, I'd play "Closing Time" by Supersonic to wrap up my set. What would you spin on air one last time at the world's end? Download it from Steam for free here!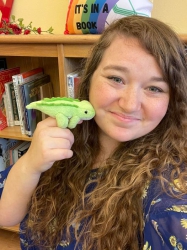 Latest posts by Lauren Darnell
(see all)