March 16th is fast approaching, and Warner Bros. has released their second official trailer for the new Tomb Raider movie.
This second trailer builds on the first by giving us a little more information about Lara Croft's (Alicia Vikander) origins, starting with her fond childhood memories of being with her father (Dominic West) to the strong, independent woman she becomes.
After viewing both trailers, we have a rough idea of Tomb Raider's plot. Lara's father disappeared when she was a teenager and while her family thinks he's dead, Lara believes otherwise. She discovers a secret basement where her father kept notes, journals, fake passports, and artifacts from his many travels. She also comes across a recording that her father left her. In it, he reveals all his secrets and tells her about a tomb he discovered called the Mother of Death and within it lies what we can only assume is a very powerful weapon. There is a sinister organization called Trinity who is looking for this tomb because they want to start a global genocide. Recruiting her friend (Daniel Wu) to help, Lara sails through the Devil's Sea, gets shipwrecked, and lands on an island inhabited by Trinity. She is taken prisoner and encounters their crazed leader (Walter Goggins) who might hold the key to her father's whereabouts.
RELATED: The Legend Comes to Life in Our First TOMB RAIDER Trailer 
While the movie is not completely based on any Tomb Raider games, it's apparent that the 2013 reboot was a strong influence. There are death-defying leaps, dramatic falls, lots of running, ancient tombs, derelict airplanes, makeshift weapons, a global threat, and, of course, multiple demonstrations of the many uses of Lara's climbing axe. Fans of the games will certainly appreciate those small hat tips, but as far as where this movie lands in the new story of Lara Croft, it might not necessarily be canon.
Overall this movie looks like your straightforward action-adventure movie with a strong female lead (love it!). Alicia Vikander shows of her athleticism and strength in spades, but she also brings an emotional depth to the character. That alone will hopefully make this movie one of the more successful game-to-movie adaptations. With Walter Goggins as the big bad, we're in for a ride.
You can watch the trailer below and let us know how you feel about this movie in the comments.  
Her legend begins. Lara Croft, the fiercely independent daughter of a missing adventurer, must push herself beyond her limits when she finds herself on the island where her father disappeared. Tomb Raider is the story that will set a young and resolute Lara Croft on a path toward becoming a global hero.
Tomb Raider comes to theaters March 16th.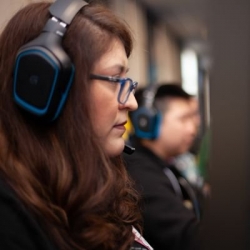 Latest posts by Renee Lopez
(see all)