This past Monday at Paris Games Week, Sony Entertainment's Santa Monica Studio showed the first gameplay trailer for the new God of War.
While it might be the same old Kratos, it is a whole new world. Unlike previous games, Kratos sheds his God of War title and embraces the Norse universe. The transformation is not just the mythology, but also Kratos himself. Instead of being at war with the Gods, the Titans and everyone else, he is now a father. With his son, Atreus, they embark on a personal journey, and along the way Kratos and his son form a strong, familial bond.  
"From a story perspective, Atreus is the humanity that Kratos lost. He's helping Kratos understand what it was like to be a human and Kratos is trying to help the kid understand what it means to be a god. The kid has no idea about any of that stuff. They're both sort of teaching each other a little bit and kind of helping each other hobble through a very difficult emotional journey," Creative Director Cory Barlog said in an interview with Mashable.
Related: New The Last of Us Part II Trailer Shows Us a Grim and Violent World
There haven't been a lot of updates released about the game so for more information about the game you can check out the God of War official site. There you can watch more videos on the new game, read background information about the game's development, and learn a little bit more about Norse mythology.
God of War will be released in early 2018 for the PlayStation 4.
You can watch the trailer below (warning: violence) along with some screenshots from the game in the Gallery.
Gallery 
[Photo Credits: Sony/Santa Monica Studio]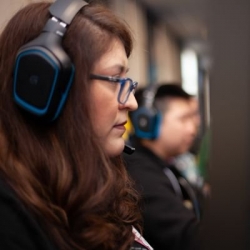 Latest posts by Renee Lopez
(see all)