Who runs the world? Cute adorable pink bouncy characters. That's who. 2022 is proving to be the Year of Kirby for Nintendo, as they have just launched the trailer for their second Kirby game of the year, Kirby's Dream Buffet! The first Kirby game of the year, Kirby and the Forgotten Land, launched in March, so I was pleasantly surprised to see another trailer so soon. 
Unfortunately, there wasn't much gameplay footage in the teaser trailer. But from what we were shown, Kirby's Dream Buffet is taking a page out of Fall Guys' book. The Kirby games are known for their unique mini-games and loveable, bouncy characters. That makes this crossover is an excellent move for the series.
RELATED: 15 Amazing Indie Games Featured During Wholesome Direct 2022
The official game description reads, "Hungry for some 4-player Kirby fun? Race through delicious obstacle courses, collect the most strawberries and thwart your competition using familiar abilities." Nintendo even shared some additional details, saying players can choose to race downhill against another player locally or against players online. The images show off a few of the possible races players will go head to head in.
It doesn't appear to be a mad dash to the finish, however. Players will need to eat as many strawberries as they can on the way down. They can also grab boxes to turn into different food items and gain certain power-ups. The more Kirby eats, the bigger it gets, and the faster it can roll towards the finish line, with the chunkiest Kirby being crowned the king. Who knew an entire game about eating tons of cake could be so much fun?
RELATED: 6 Awesome Indie Games on Nintendo Switch
This year marks Kirby's 30th anniversary, and Nintendo promised us various announcements and content to celebrate throughout the year. With two games already on the docket, I'm excited to see what else will be announced to celebrate our favorite pink glutton. 
Were you surprised by this trailer drop? Share your thoughts with us in the comments! Kirby's Dream Buffet will be released in the Nintendo eShop later this summer. 
10 Essential Tips All KIRBY AND THE FORGOTTEN LAND Beginners Should Know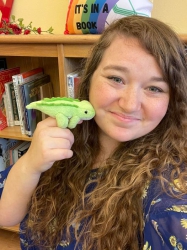 Latest posts by Lauren Darnell
(see all)