Everything seems to be falling in to place for Kira Yoshikage. Josuke, Hayato and the late Okuyasu are cornered in a stranger's house, hoping to lure Kira in to a close range confrontation. Too wise for that trick, Kira strolls around the building, looking for an angle from which to launch an attack. The heavy set creep from next door comes out to confront Kira, hoping to defend the honor of his absent neighbor.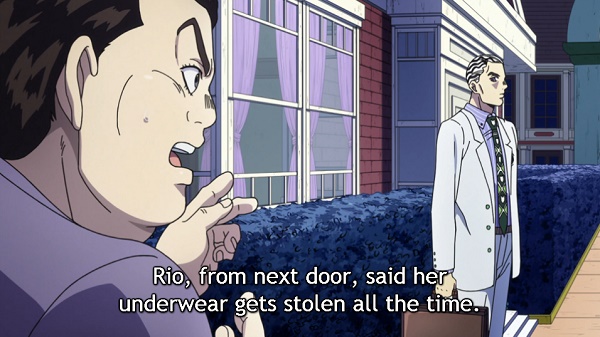 Surely sensing a kindred spirit, the doofus pegs Kira for a panty. His effort to maintain dominion over this neighborhood are derailed by an errant pair of panties hanging off a nearby plant. His assumptions about who they belong to– and his ignorance of who he's dealing with– urge him to reach for the undergarments. As his fingers make contact, a familiar *click* is followed by a familiar *boom* as the pervert falls to ash.
Hiding in the house with all the blinds pulled, Josuke and Hayato wait for Kira to attack as they watch all of the possible entry points. With a start, Hayato feels a breeze through a crack in the wall and with it: an explosive air bubble. He calls out to Josuke as the bubble drifts across the room. Josuke flings the ashes from an ashtray in to the air, revealing the bubbles location. Though he easily avoids the bubble, it shits and turns to match his evasion. He walks up stairs and the bubble casually follow. It can't be misdirected by heat like Kira's other remote attack, so there must be some other trick to it. Kira must be watching them, but how?
There isn't time to solve the riddle, as Josuke reaches the top of the staircase and the bomb finally detonates. The blast itself isn't fatal, but it sends pieces of the banister flying, lodging them in Josuke's torso and right leg. The blast also failed to stop Josuke's ditch effort to land a hit on Kira. He knows the serial killer is just outside the house, and he knows Kira's jacket is still stained with Josuke's blood. Using a quirk of 「Shining Diamond」's power, Josuke fuses his blood in to a shard of glass and launches it through the window. Kira handily blocks it, believing he just avoided the dying effort of Josuke Higashikata. The shard careens up in to the sky, then loops back around, homing in on the blood stain. Caught completely off guard, Kira reels as the shard lodges deep in his back. He scrambles for his phone before slipping back in to his hiding spot.
Hayato struggles to drag Josuke away from the fight, but Josuke believes he's solved the riddle. His plan starts with another glass missile, this time launched skyward. He asks the boy to fish the lighter out of his pocket– his injuries preventing him from doing so himself. With the lighter, Josuke starts to singe the edge of Hayato's vest. Whether it's a hunch or something more concrete, Josuke knows he's being watched and Hayato's pocket is as prime a spot as any for a ghost to hide.
The flames do their trick and out pops the ghostly Poloroid of Kira's pop, cell phone in ghostly hand. A new bubble slips through the hole Josuke left in the window, and before the ghost dad can sound the alarm, Josuke snags the phone and puts on his best old man voice. Kira's father tries to float to freedom, but there is now a bubble bomb after him. Fooled, following the instructions of Josuke's facade, Kira clicks the detonator. With that, he sends the ghost of his father to the great beyond, and causes enough damage to draw the attention of Jotaro and company a block away.
Distracted by the cellular subterfuge, Kira doesn't even notice the second glass shard looping back around until it pierces his back. He can't believe this is happening. Kira Yoshikage just wanted to live a quiet serial killer's life. No situation has been too difficult for him, though, and he is certain this one will prove no different. With his resolve steeled, he finds himself looking right in to the face of Josuke Higashikata.
A final confrontation feels imminent, and either Stand could obliterate the other in a moment. Or, so Hayato imagines. 「Shining Diamond」 and Josuke's unflappable will are a force to be reckoned with, and they instantly set to pummeling Kira. The killer thinks he may finally be in an insurmountable situation, but the second Stand sitting Krang-like in 「Killer Queen」's belly instinctually intervenes, blocking 「Shining Diamond」's fists with air bubbles. Kira seizes on the reprieve, hoping to end this once and for all with a bubble bomb. Josuke staggers, too injured to escape. Before the bomb can explode, its drifts away from Josuke with the familiar "scraping" sound of 「The Hand」.
Okuyasu lives, and the terrifying power of 「The Hand」 is more than Kira has bargained for. With a swipe of its palm, 「The Hand」 can scrape away matter, transporting it to some unknown place. After explaining his near death conversation with the spirit of his older brother, Okuyasu reunites with his joyfully weeping friend. Together, they face down Kira Yoshikage. With another swipe from 「The Hand」, 「Stray Cat」 is pulled from its roost in 「Killer Queen」's belly, depriving Kira of the ranged fire power that had given him an edge.
Luck continues to spurn Kira with the arrival of Jotaro, Koichi and Rohan. Though Kira is surrounded and outgunned, there's definitely some sort of cliche about a cornered animal being the most dangerous. Ghost-fatherless, cat-plantless, and flanked. Everything is falling in to place.
Latest posts by Tom Laurie
(see all)