Thursday, July 15th is just like any other day in Morioh; Koichi is late for school and panicking. Josuke and Okuyasu are late for school and don't notice. A Poloroid containing the ghost of Kira's father is blowing around town searching for his son, and creating a new batch of Stand users along the way.
Early on, the episode feels like the roll out of a new group of villains. Mysterious people are stalking Koichi, Josuke's mother Tomoko, and magical manga author Rohan Kishibe. Rohan doesn't notice the creeper at his window, as he's doing some stalking of his own. As he examines photos of crowds, hunting for our face stealing Waldo, Rohan spots another stalker tracking the same prey. Three layers deep in stalking, the photo reveals a helpfully name tagged Hayato tailing his father's imposter. Finally, the gang has enough dots to connect back to Kira, unless Kira's ghost dad and his new band of weirdos get in the way.
Meanwhile ("meanwhile" being the binding thread of this episode), one such weirdo has succeeded at doing just that. One minute, Okuyasu and Josuke are looking through a pair of binoculars (which is actually their shape shifting alien friend Mikitaka), and the next they're getting peed on by a Stand that snaps all the rules that other Stands had only bent. Toyohiro Kanedaichi sits perched on an electrical pylon, his Stand 「Super Fly」, like a spider beckoning these boys in to its steely web. And into the web Josuke goes.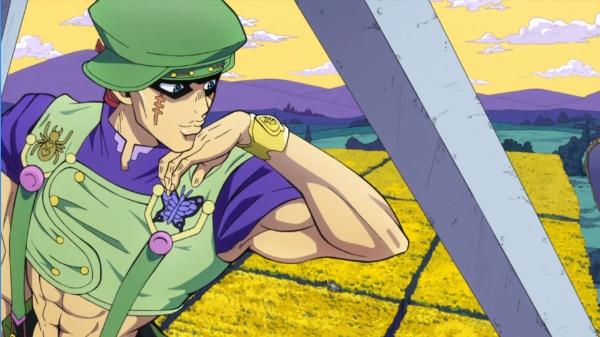 Meanwhile, Toyohiro hops off of 「Super Fly」, making his escape down the power lines, as he explains the Stand's unique and daunting nature. The tower exists and acts independent of him. 「Super Fly」 will not die with him. It is a cage that will devour escapees unless someone takes their place; including the Stand's master. As Toyohiro flees his own Stand across the power lines, he is thwarted by Mikitaka. It was not a power line on which Toyohiro slid, but a shape shifting elf-like alien. The two swing back within 「Super Fly」, allowing Josuke to slip out.
What happens within this skeletal tower is plenty ridiculous, unpredictable and entertaining, but there's a certain cheapness to it. My favorite Jojo, Joseph Joestar, was famous for blending ridiculous planning with lucky improvisation. He could seem to play possum for an entire fight, only to reveal that it was a ruse obscuring his real plan. He could also accidentally set off a volcano, launching an enemy in to space, and falsely claim that it was all according to plan. Either way, he earned his ridiculous victories. What Toyohiro and 「Super Fly」 offer is superficially similar, but his miraculous reversals of fortune feel entirely convenient while being sold as entirely planned.
Mikitaka has Toyohiro bound in the wire with which he melded to fool the Stand user. Ready for (seemingly) anything, Tonohiro pulls the oldest trick in the book: a razor blade hidden under the thick calluses on his palm. He slashes at the wire, as an attempt at freedom or at injuring the alien. 「Super Fly」 will reverse any attack it receives, and who better than its master would know how to exploit this. His slash at the wire had been perfectly aimed to redirect the attack at Mikitaka, piercing his chest.
At first glance, a haunted Poloroid randomly turning people an animals in to Stand users doesn't seem like much of a plan, but as everyone is caught off guard simultaneously, it's hard to argue with the ghost dad's results. Given the "Part 1" title, loose ends and mounting stakes, next week will show the true cost or payoff of tilting at power lines. Thursday, July 15th is far from over.
Latest posts by Tom Laurie
(see all)