The Jojos are absent this week, as Kira Yoshikage strains to adjust to domestic life by the skin of his serial killer teeth. Walking in the late Kosaku Kawajiri's shoes, the cracks in his facade are starting to show; not to Kosaku's wife Shinobu, but to their inquisitive and terrified son, Hayato. Shinobu remains enraptured by the modicum of attention paid to her by Kira. Somehow, it's more than she got from Kosaku. By all accounts, Kosaku majorly sucked, and yet Kira literally can't fill his shoes. Has anyone noticed? What's the deal with the 「Stray Cat」in the basement? Did curiosity kill the cat? Will the cat kill everybody?
「Stray Cat」 might be the weirdest Stand seen, so far. Beyond being a flowering plant with eyes that grew from the corpse of a cat and now acts like a cat, it bends one of the previously understood Stand rules. Typically, a Stand and its user share injuries. Though this rule has already bent once before in Diamond is Unbreakable (Shigechi's 「Harvest」 survived for a few moments after his death), this weird cat-plant seems exceptional. The cat appeared to be about as dead as dead gets before its Stand manifested, and now 「Stray Cat」 is a unique hybrid of the cat's spirit, its stand, and a plant.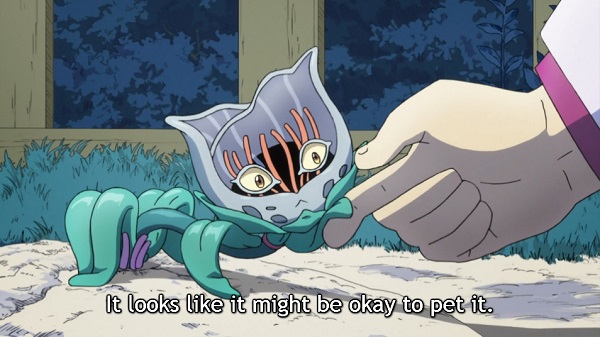 And it hates everyone except Kira. Perhaps it senses a murderous affinity, or perhaps a kinship in Kira's catlike Stand 「Killer Queen」. Either way, it warms up to him, but the family he's infiltrated isn't so lucky. Picking up fragmented memories of its former life, 「Stray Cat」 directs its murderous intent at Shinobu. Though it injures her severely enough to knock her unconscious, Kira leaps to her defense. What… what is this impulse? Kira is torn by self doubt as he wonders whether he's developing feelings for more than the dismembered hand of a woman. Can he believe that it was simply an act of self preservation, maintaining his stolen identity?
It is the beautiful power of Jojo's Bizarre Adventure to establish a character as a long time serial killer, a villain above villains, and to then stick him in humanizing situations with opportunities to show bravery. He may have killed countless people, kept the hands of women as mementos, and defeated multiple Stand users, but he's apparently a warmer and more caring person than the salaryman whose face he stole. A hallmark of both Stardust Crusaders and Diamond is Unbreakable has been seemingly villainous Stand users entering the fray, but ultimately turning out to be decent enough people, if not loyal allies. As Kira struggles to protect Shinobu from 「Stray Cat」's relentless air-bubble attacks, it almost feels like he's capable of finding a less-evil direction in life.
That is a foolish hope to nurture. It can't be potted up, stowed in the attic and fed cat food as easily as 「Stray Cat」. This is the arm stealing murder guy! He's killed or grievously injured like half of the protagonists, so far! Just in case Kira's deception grew too convincing, Hayato is there with creepily compiled mounting evidence. He knows Kosaku is no longer who he appears to be, and he knows there's something going on in the attic.
His discovery of and confrontation with 「Stray Cat」 is odd in its relative harmlessness. Rather than jumping straight to murder mode as it did with Shinobu and Kira, the cat-plant instead restrains the kid. Whatever the creature's reasoning, it provides the requisite suspense as Kira stalks his way back home and up to the attic to make sure Hayato isn't on to him. Unforunately Hayato is, and now he knows the inescapable truth: Kosaku Kawajiri is not Kosaku Kawajiri, and Kira Yoshikage is not a cool dad.
Latest posts by Tom Laurie
(see all)