News of New York Times bestselling author John Green's book Turtles All The Way Down has circulated since 2017. The film has been moved around several studios thanks to the planning stages of it taking place during some significant changes to the film industry. But it has finally found a home on HBO Max. This isn't a total surprise when you consider that Green's first book, Looking For Alaska, was turned into a series for Hulu in 2019. 
Let's talk about the book to start. Turtles All The Way Down was a deeply personal project for John Green as it is a story of overcoming mental illness. Aza Holmes struggles with intense OCD while just trying to make it through high school. She's got her best friend Daisy by her side, but they've got bigger things to focus on when fellow classmate (and summer camp crush) Davis Puckett's father goes missing. The book is full of Green's signature wit and oddly specific research, set atop a mystery. 
RELATED: Queer Tested, Teacher Approved: 13 LGBTQ+ Sex-Positive YA Novels for Your TBR
Now that you are hooked, here's what we know about the film. Hannah Marks is heading the film and working from a script by Isaac Aptaker and Elizabeth Berger, best known for co-show running This Is Us and writing the screenplay for Love, Simon.
Marty Bowen, Wyck Godfrey and Isaac Klausner will produce. The team previously produced Green's The Fault In Our Stars, which became a summer blockbuster when it hit theaters in 2014, and then again for 2015's Paper Towns. Green will executive produce alongside Aptaker and Berger, which is incredible because his involvement always leads to the betterment of the project. 
As far as casting goes, Isabela Merced, seen left on the header, is the first casting choice to break. Merced is a rising talent in Hollywood with movies like such as Dora and the Lost City of Gold. She even appeared in a previous Green adaptation, Let It Snow, for Netflix. It is presumed she will be playing the lead character, Aza Holmes. 
Excited as we are? Hopefully, we won't have too long to wait as filming is scheduled to start in April! Let us know your thoughts in the comments below and on social media!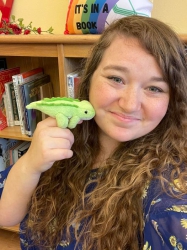 Latest posts by Lauren Darnell
(see all)