Late night host Jimmy Kimmel has been using his celebrity platform to pay tribute to those on the frontline of the COVID-19 pandemic with a weekly Jimmy Kimmel Live! segment called "#HealthCareHero." Kimmel thanked this week's hero, a San Diego nurse and Star Wars fan named Chloé Ducos, with a surprise virtual visit from Luke Skywalker himself: Mark Hamill!
There's a lot going on in our world right now. Protests opposing systemic racism in the U.S., law enforcement using excessive force and violating civil rights and an ongoing COVID-19 pandemic. Throughout all of this, healthcare workers have continued to put their physical and emotional labor towards combating the spread of this novel coronavirus.
Kimmel and Ducos spoke via video. Ducos is one of many nurses administering COVID-19 tests, working out of a field tent in San Diego, CA. She humorously referred to it as "booger picking."
Kimmel asked Ducos if it was hot working outside. She confessed it was kind of miserable, sharing: "For the last couple weeks, now that it's been heating up in San Diego, we've been boiling. It's been like 90-degree [Fahrenheit] weather, so it's not great… but we've been managing."
Ducos confirmed she was a big Star Wars fan when Kimmel asked. Kimmel asked how many times she'd watched all the Star Wars movies from beginning to end. "More than ten," Kimmel asked. An embarrassed Ducos hesitantly responded, "Yes…"
Kimmel then said he wanted to introduce somebody who wanted to thank her for all her work. As the Star Wars main theme played, a hooded man joined the video conference and threw back his hood to reveal himself as Mark Hamill!
RELATED: Harrison Ford and Chewbacca End Long Time Feud with Help from Adele's 'Hello' on Jimmy Kimmel Live
"Oh my God, hi!" Ducos shouted, gasping in shock and delight.
"Chloé, the Force is strong with you," said Hamill, "I applaud you for having seen the Star Wars movies more than *I* have!" Chloé laughed with tears in her eyes.
Mark Hamill (whose father was a U.S. Navy captain) shared that he actually lived in San Diego for a while growing up, and he went to seventh grade in Claremont, CA. "Oh my gosh, I've been working out of there [Claremont] for a while too," shared Ducos, "doing some office work!"
Hamill commended Ducos for her six years of nursing, as well as teaching nights. "I mean to me, I'm a pretend hero," Hamill declared. "You're the real-life hero. So thank you for your service."
An overwhelmed Ducos thanked Hamill for his words. "I'm having [heart] palpitations," she laughed. "I'm gonna cry!"
And cry she did when Kimmel revealed that PayPal had gifted $10,000 to her, and that her clinic coworkers were receiving similar PayPal vouchers as part of the #PayPalItForward program.
Mark Hamill also revealed he had a gift for Ducos: a signed Force FX Skywalker lightsaber. "I want you to use it wisely," Hamill requested. "If you go to any protests, please leave it – please leave it at home."
RELATED: STAR WARS: THE LAST JEDI Cast Talk Secrets and Use the Force on THE GRAHAM NORTON SHOW
"Yes, sir!" a tearful Ducos eagerly confirmed. "Oh my God, thank you so much!"
The interview ended with Kimmel encouraging viewers to give to the heroes in their communities, and everyone wishing each other, "May the Force be with you."
If you know a healthcare worker you think should be featured on Jimmy Kimmel Live!, be sure to tag @JimmyKimmelLive on Facebook, Twitter and/or Instagram with the hashtag #HealthCareHero.
Video: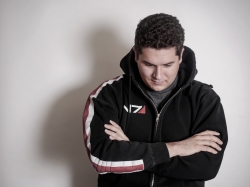 Latest posts by Tyler Boyce
(see all)