According to a 2017 survey by the International Game Developers Association (IGDA), almost half (48%) of all gamers are female. However, as of 2019, women account for a much smaller share of video game developers. Of those making video games, 76% are male, 22% are female, and 2% are transgender/non-binary. Due to video games being perceived as a "boys' only club" for several decades, the majority of game publishers and development studios tend to cater to mostly male interests and fantasies. Progress has been made for gender inclusivity in the video game industry (that 22% is nearly double what the percentage was in 2009), but the lack of female-designed games is having an impact on sales to women by major developers.
On this International Women's Day 2020, Geek Girl Authority is highlighting some of our favorite women in the video game industry. Women who develop video games not in the more traditionally "feminine" roles of marketing or administration, but rather have an active voice  in the content, writing, character representation, and rewards involved in some of our favorite video games.
Amy Hennig
We start our spotlight with an industry veteran with over two decades of experience in video game development. We're talking an IMDb page that stretches back to the Atari 7800! Originally an artist and animator, Amy Hennig's first game design role was as Lead Designer for Michael Jordan: Chaos in the Windy City in 1994. Hennig eventually made her way to Naughty Dog and (after writing and directing Jak 3) Hennig became Creative Director for what would eventually become Uncharted: Drake's Fortune. Hennig played key creative roles in the development of the critically-acclaimed Uncharted series.
Amy Hennig's style highlights the cinematic nature of video games that Naughty Dog has come to be known for. Her writing often uses supporting characters to act as foils for the personality aspects of other characters. Hennig stands out as not just one of the most influential women in the video game industry, but as one of the most influential *people* in the industry, regardless of gender. Hennig's creative direction and writing have earned accolades from the D.I.C.E. Awards, the Game Developers Conference, and even the Writers Guild of America.
Though having departed the video game industry for film and television at Skydance Media in 2019, Amy Hennig will always be celebrated for the creative expression and "bleeding edge" writing that she brought to the video game industry.
RELATED: Naughty Dog Celebrates 10 Years of the Unforgettable UNCHARTED Series
Robin Hunicke
Robin Hunicke first gained prominence as Lead Designer for MySims in 2007 (an adaptation of the popular Sims franchise) and Boom Blox in 2008, both for the Nintendo Wii console. After departing Electronic Arts in 2009, Hunicke joined thatgamecompany and became Executive Producer for the award-winning Journey on PlayStation 3.
After Journey's release, Robin Hunicke co-founded indie game developer Funomena in 2012. Recognized throughout the video game industry as a supporter of independent game development, Hunicke is a co-founder of the Education Special Interest Group for the International Game Developers Association (IDGA Education SIG) and she is a judge for the Independent Games Festival.
Hunicke's career has been characterized by advocacy of women in the video game industry and experimentation. In addition to helping to produce and design indie games, Hunicke teaches game design at the University of California, Santa Cruz and researches dynamic difficulty adjustment (games that automatically become easier or harder, depending on the player's abilities).
Anna Megill
Anna Megill is currently the Lead Writer at Ubisoft Massive in Sweden. She started as a gaming quality assurance (QA) tester and worked her way up into the gaming writers' room. Her previous writing credits include Murdered: Soul Suspect, Dishonored: Death of the Outsider, Guild Wars 2, and most recently, she was the Narrative Lead on the award-winning Control. Control is an incredibly beautiful yet terrifying game that explores the mind and madness through unique mediums. What also makes Control impactful is that for a game that features a female protagonist (Jesse), it had a female Narrative Lead (Anna).
When talking about why she loves video game writing in a Ubisoft interview, Megill stated: "I like to tell stories through interactivity. People make experiential connections to video games that you don't get in something like film, which is more passive. You certainly get an emotional reaction from film, but it's not the same as you making the choice yourself."
If you have any questions about being a writer or getting into the gaming industry, the FAQ section on her website has plenty of wonderful answers! Not only is Anna a talented writer, but she is also a positive vocal voice for women in the gaming industry. And honestly? We cannot wait to play the next game she has a narrative hand in!
RELATED: GGA Video Game Awards 2019
Iman Sylvain
As a member of Buddy System Games, Iman Sylvain (pictured below on the right) contributed to the story, character, and concept of Little Bug. The small charming platformer may seem simplistic on the surface, but underneath it is much more than that. Sylvain weaves a story of inter-generational trauma, healing, magic and fungi through the eyes of a young black girl.  Sylvain and Buddy System Games dream is to support and cultivate the creative visions of women and queer people of color. Something everyone needs to get on board with!
The journey through Little Bug is inspiring and built in a way that draws the player in. Something you would expect from a major game company. The real inspiration is this is Sylvain's first published game. Her heart can be seen from beginning to end. We don't know what Buddy System Games and Sylvain have in store for us next, but we know it will be great.
Overall
Maybe you got some inspiration from these women and their games. Maybe you felt some empowerment to stand up for greater female representation in game development. If nothing else, we hope that this spotlight has been a celebration of achievement. Not just the achievement of awesome video games designed by women, but also the achievement of women who followed their dreams.
Additional Contributors: Julia Roth and Emily Rose Jacobson
This was originally published International Women's Day 3/8/20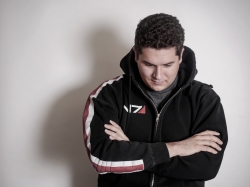 Latest posts by Tyler Boyce
(see all)