We're nearing the end of the year and that means it's time to reflect on this year's best video games. What better way to show your appreciation for the developers who brought you amazing stories, beautiful worlds, and memorable characters than by giving them an award?
First up are the 35th Golden Joystick Awards. These awards are voted by the fans and cover a wide range of categories such as "Best Storytelling," "Best Gaming Performance," "Esports Play of the Year," "Ultimate Game of the Year," and "Most Wanted Game."  The games that received nominations are a mix of big studio titles and indie games and, for the first time ever, fans will be able to vote for their favorite VR game.
Last year Dark Souls 3 took the Ultimate Game of the Year award while indie gem Firewatch won "Best Indie Game." Blizzard's Overwatch picked up 5 awards including "Best Multiplayer Game" and "Competitive Game of the Year." CD Projekt RED, the studio behind The Witcher franchise, won Studio of the Year.
Leading the nominations this year is Horizon: Zero Dawn from Guerrilla Games with 6 nominations followed by Persona 5 with 5 nominations and Pyre, Tacoma, and The Legend of Zelda: Breath of the Wild with 4 nominations each. Nintendo EPD (Entertainment Planning & Development), the in-house game development division of Nintendo, had a strong showing with 10 nominations including "Studio of the Year."
The awards will not only be given to recently released games, however. In the category of "Still Playing," gamers will be able to vote on "older" titles while "Most Wanted Game" will highlight the most anticipated game of the year. In looking at the nominees for "Most Wanted Game," it is clear that we will have a lot to look forward to in the upcoming year.
You can cast your votes on the GamesRadar website.  The winners will be announced in a livestreamed ceremony hosted by Assassin's Creed writer and voice actor Danny Wallace on November 17th in London's Bloomsbury Big Top.
Let's get to the nominees:
Best Storytelling
Horizon: Zero Dawn (Guerrilla Games)
NieR: Automata (Platinum Games)
Night in the Woods (Infinite Fall)
Persona 5 (Atlus)
Prey (Arcane Studios)
Pyre (Supergiant Games)
Tacoma (Fullbright)
Torment: Tides of Numenera (inXile Entertainment)
Uncharted: The Lost Legacy (Naughty Dog)
What Remains of Edith Finch (Giant Sparrow)
Best Visual Design
Cuphead (StudioMDHR)
Dishonored 2 (Arkane Studios)
Final Fantasy XV (Square Enix)
GNOG (Double Fine)
Horizon: Zero Dawn (Guerrilla Games)
Little Nightmares (Tarsier Studios)
Monument Valley 2 (Ustwo Games)
Night in the Woods (Infinite Fall)
Persona 5 (Atlus)
Pyre (Supergiant Games)
The Legend of Zelda: Breath of the Wild (Nintendo EPD)
Best Audio
Destiny 2 (Bungie)
Hellblade: Senua's Sacrifice (Ninja Theory)
Horizon: Zero Dawn (Guerrilla Games)
Life is Strange: Before the Storm (Deck Nine)
Little Nightmares (Tarsier Studios)
Persona 5 (Atlus)
Project Cars 2 (Slightly Mad Studios)
Pyre (Supergiant Games)
RiME (Tequila Works)
Sniper Elite 4 (Rebellion Developments)
Tacoma (Fullbright)
The Legend of Zelda: Breath of the Wild (Nintendo EPD)
Best Gaming Performance (Voice Acting)
Ashly Burch (Aloy, Horizon: Zero Dawn)
Brian Bloom (B.J. Blazkowicz, Wolfenstein II: the New Colossus)
Claudia Black (Chloe Frazer, Uncharted)
Fryda Wolff (Sara Ryder, Mass Effect: Andromeda)
Jack Brand (Jack Baker, Resident Evil 7)
Kylie Brown (Rachel Amber, Life is Strange: Before the Storm)
Melina Juergens (Senua, Hellbralde: Senua's Sacrifice)
Nathan Fillion (Cayde-6, Destiny 2)
Best Indie Game
Dream Daddy (Game Grumps)
Everything (David OReilly)
Friday the 13th: The Game (IllFonic)
Night in the Woods (Infinite Fall)
Pyre (Supergiant Games)
Slime Rancher (Monomi Park)
Stories Untold (No Code)
Tacoma (Fullbright)
Thimbleweed Park (Terrible Toybox)
What Remains of Edith Finch (Giant Sparrow)
Best Multiplayer Game
Absolver (Sloclap)
Battlefield 1 (EA DICE)
Destiny 2 (Bungie)
FIFA 18 (Electronic Arts)
Friday the 13th: The Game (IllFonic)
Injustice 2 (NetherRealm Studios)
LawBreakers (Boss Key Productions)
Nidhogg 2 (Messhof Games)
PlayerUnknown's Battlegrounds (Bluehole Studio Inc.)
Pro Evolution Soccer 2018 (Konami)
Splatoon 2 (Nintendo)
Studio of the Year
Arkane Studios
Bluehole Studio Inc.
Boss Key Productions
Creative Assembly
Guerrilla Games
Machine Games
NetherRealm
Ninja Theory
Nintendo EPD
Platinum
Rebellion
Best VR Game
Dead Effect 2 VR (BadFly Interactive)
Farpoint (Impulse Gear)
GNOG (Double Fine)
Resident Evil 7 (Capcom)
Rez Infinite (Monstar's Inc, Resonair)
Robo Recall (Epic Games)
SUPERHOT VR (SUPERHOT Team)
Star Trek: Bridge Crew (Red Storm Entertainment)
Statik (Tarsier Studios)
Thumper (Drool)
Wilson's Heart (Twisted Pixel Games)
Esports Play of the Year
Agilities' five-man Dragonblade at Overwatch Contenders (Overwatch)
Autimatic and Skadoodle win 2 vs. 4 with pistols (CS:GO)
PraY's Ashe skillshot at Worlds 2016 (League of Legends)
TeamLiquid win the first ever 3-0 grand final victory at the International (Dota 2)
Tokido's incredible parry at Evo 2017 (Street Fighter V)
Esports Team of the Year
Astralis (CS:GO)
Lunatic-Hai (Overwatch)
Northern Gaming (Rocket League)
Optic Gaming (Call of Duty)
SK Telecom T1 (League of Legends)
Team Liquid (Dota 2)
Team SoloMid (League of Legends)
Esports Game of the Year
Call of Duty: Infinite Warfare (Infinity Ward)
Counter-Strike: Global Offensive (Valve)
Dota 2 (Valve)
FIFA 17 (Electronic Arts)
League of Legends (Riot Games)
Overwatch (Blizzard)
Rainbow Six: Siege (Ubisoft)
Rocket League (Psyonix)
Smite (Hi-Rez Studios)
StarCraft II (Blizzard)
Best Streamer/Broadcaster
Hannah Rutherford
Jacksepticeye
Jupiter Hadley
Markiplier
Maximilian Dood
Polygon
Waypoint
What's Good Games
Handheld/Mobile Game of the Year
Dragon Quest VIII: Journey of the Cursed King (Square Enix)
Ever Oasis (Grezzo)
Fire Emblem Heroes (Intelligent Systems)
Framed 2 (Loveshack)
Hidden Folks (Adriaan de Jongh and Sylvain Tegroeg)
Milkmaid of the Milky Way (machineboy)
Monument Valley 2 (Ustwo Games)
Old Man's Journey (Broken Rules)
Pokémon Sun and Moon (Game Freak)
Super Mario Run (Nintendo EPD)
Nintendo Game of the Year
ARMS (Nintendo EPD)
Bulb Boy (Bulbware)
Mario + Rabbids Kingdom Battle (Ubisoft)
Mario Cart 8 Deluxe (Nintendo EPD)
Metroid: Samus Returns (Nintendo and Mercury Steam)
Pokémon Sun and Moon (Game Freak)
Snipperclips (SFB Games)
Splatoon 2 (Nintendo)
Super Mario Odyssey (Nintendo EPD)
The Legend of Zelda: Breath of the Wild (Nintendo EPD)
PlayStation Game of the Year
Everybody's Golf (Sony Interactive Entertainment)
Horizon: Zero Dawn (Guerrilla Studios)
Nex Machina (Housemarque)
NieR: Automata (Platinum Games)
Nioh (Team Ninja)
Persona 5 (Atlus)
Statik (Tarsier Studios)
The Last Guardian (Team Ico)
Uncharted: The Lost Legacy (Naughty Dog)
Yakuza 0 (Sega)
Xbox Game of the Year
Cuphead (StudioMDHR)
Dead Rising 4 (Capcom)
Forza Motosport 7 (Turn 10 Studios)
Gears of War 4 (The Coalition)
Gigantic (Motiga)
Halo Wars 2 (Creative Assembly)
Pit People (The Behemoth)
Slime Rancher (Monomi Park)
Tacoma (Fullbright)
PC Game of the Year
Dream Daddy (Game Grumps)
Endless Space 2 (Amplitude Studios)
OneShot (Little Cat Feet)
Planet Coaster (Frontier Developments)
PlayerUnknown's Battlegrounds (Bluehole Studio Inc)
Rising Storm 2: Vietnam (Tripwire Interactive)
Stories Untold (No Code)
Total War: Warhammer II (Creative Assembly)
Warhammer 40,000: Dawn of War III (Relic Entertainment)
West of Loathing (Asymmetric)
Breakthrough Award
Ashly Burch
Brendan Greene
Cavalier Game Studios
Game Grumps
Giant Sparrow
Infinite Fall
Melina Jeurgens
Nick Popvich
Nina Freeman
SMAC Games
Most Wanted Game
Beyond Good and Evil 2 (Ubisoft)
Call of Duty: WWII (Sledgehammer Games)
Death Stranding (Kojima Productions)
Far Cry 5 (Ubisoft)
God of War (SIE Santa Monica Studio)
Metro Exodus (4A Games)
Metroid Prime 4 (Nintendo)
Ooblets (Glumberland)
Red Dead Redemption 2 (Rockstar Games)
Sea of Thieves (Rare)
Spider-Man (Insomniac games)
Star Wars Battlefront II (EA DICE, Criterion Games, Motive Studios)
The Last of Us Part II (Naughty Dog)
Still Playing
Diablo III (Blizzard)
EVE Online (CCP)
FIFA 17 (EA)
Final Fantasy XIV (Square Enix)
Hearthstone (Blizzard)
Minecraft (Mojang)
Overwatch (Blizzard)
Pokémon Go (Niantic)
Pro Evolution Soccer 2017 (Konami)
Rocket League (Psyonix)
The Elder Scrolls Online (ZeniMax Online Studios)
World of Tanks (Wargaming)
Ultimate Game of the Year
Assassin's Creed Origins (Ubisoft)
Destiny 2 (Bungie)
Dishonored 2 (Arkane Studios)
Horizon: Zero Dawn (Guerrilla Studios)
Monument Valley 2 (Ustwo Games)
Persona 5 (Atlus)
PlayerUnknown's Battlegrounds (Bluehole Studio Inc)
Resident Evil 7 (Capcom)
Super Mario Odyssey (Nintendo EPD)
The Legend of Zelda: Breath of the Wild (Nintendo EPD)
What Remains of Edith Finch (Giant Sparrow)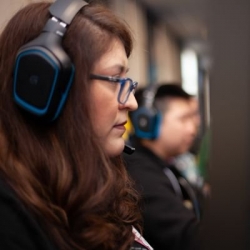 Latest posts by Renee Lopez
(see all)