In case you missed it, Sea of Thieves is offering 3 free codes to all current owners of the game this week. This is a fantastic opportunity to get your friends into the game and sail around with a full 4-pirate crew.
Friends Play Free in #SeaOfThieves between February 6th and 13th! Know someone who would enjoy the pirate life but hasn't yet had a chance to try it? Now's your chance to hook them up! Find out more in the video and on our website: https://t.co/qDXv6vKUSShttps://t.co/XKV6BoTnDo

— Sea of Thieves (@SeaOfThieves) February 5, 2019
This "Friends Play Free" promotion ends on February 13th. You can receive your codes on the website.
There are a few things to know about this promotion. Friends who redeem the code will have unrestricted access to the game for this week only. During this time, if they use the code they won't be able to purchase the game until after this promotional period is done. If friends do decide to purchase the game, they can buy it for 35% off from February 13th-27th.
If you go into the Tavern, Duke will have a special Mercenary Voyage for you to complete. There is also special ship livery that you can purchase with doubloons.
With the rising popularity of Sea of Thieves, thanks in part to very enthusiastic content creators and popular Twitch streamers, this promotion comes at a perfect time. And it's no surprise that streamers and players are interested in this game. It is a beautifully made game that is easily accessible and puts everyone on a level playing field. Even though pirates gain levels, or reputation, not one pirate is "stronger" than another. Characters can change their appearance, but with no abilities or upgrades to deal with, players only have their wits to get them through the game. The game focuses on the accumulation of wealth and reputation, which is something any beginner can get in to.
Sea of Thieves is available for PC and Xbox One, with cross-platform play.
RELATED: February 2019's Most Anticipated Video Games
You can watch the trailer below. Happy sailing you scurvy dogs!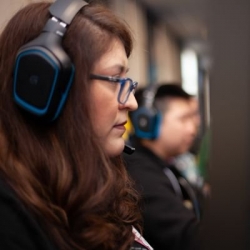 Latest posts by Renee Lopez
(see all)