During today's PlayStation Showcase 2021, Insomniac Games shocked us by revealing not one but two new Marvel video games: Marvel's Wolverine and Marvel's Spider-Man 2!
First up, Wolverine! In a bar full of broken and bloodied bodies, the last man standing (err, sitting) drinks alone at the bar. One of his victims crawls up from the floor. He grabs a knife as he staggers forward. The drinking Wolverine sighs as he extends his metal claws. We had no doubt it would be Logan responsible for the mayhem. Just look at that plaid shirt he has got going on!
RELATED: Spider-Man: No Way Home Teaser Trailer Showcases Complexities of the Multiverse
For the Spider-Man 2 trailer, a voiceover laments that he has long looked for an equal. As he describes his ideal foe, we see Peter Parker and Miles Morales as Spider-Man, beating up bad guys with some new robotic arms and Miles's trademark Venom powers.
The voiceover longs for one who could push and surprise them. Maybe even beat them. But they have always been disappointed. As Spider-Man and Spider-Man look into a dark alley, the voiceover demands to know if anyone can possibly provide that?? An alien voice responds from the dark. "Yes," Venom answers, "We will…"
So far, only Spider-Man 2 has a rough release date of 2023. We know both games are being released for PlayStation 5, though no word yet if there will be PlayStation 4 releases too?
What do you think? Are you ready for Insomniac to bring "Old Man Logan" to your consoles? Are Peter and Miles ready for a villain that is literally out of this world? Keep those Spidey-Senses tingling for all the PlayStation gaming news still to come from Geek Girl Authority and be sure to check out the new trailers below!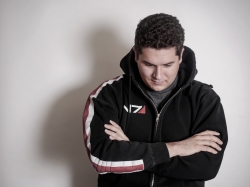 Latest posts by Tyler Boyce
(see all)