There's a lot to say for the reliability of playing games from AAA, big-name developers, or Nintendo exclusive franchises, but the indie library is where the Nintendo Switch catalog really shines. Smaller developer houses tend to give their teams more creative freedom when it comes to trying out new game mechanics and story writing, so the sky is the limit with small games. The culmination of these freedoms often results in games that are high concept, story-driven and uniquely different from their big-budget cousins. Sure there can be some dudes in the mix, but that's true of any development house. With that in mind, these are some of our top picks for indie titles on the Nintendo Switch. 
RELATED: 10 Essential Tips All Kirby and the Forgotten Land Beginners Should Know
Not Tonight: Take Back Control Edition (2020)
I played Not Tonight from developer No More Robots on Steam originally and was delighted to learn it is also on the Nintendo Switch! This simulation game puts you in the role of the bouncer. You pick the jobs, check IDs and manage the guests. Not Tonight fuses together time-management gameplay with RPG elements and meaningful story choices that affect the outcome of your bouncer's life. Can you let the VIPs in while not letting your life spin out of control? If you like this indie game be sure to check out Not Tonight 2, also on Switch!
Astroneer (2022)
I waited a long time for System Era Softworks' Astroneer to come to consoles, but it was worth it. Astroneer is a sandbox adventure game that has the player terraforming planets, setting up new colonies and collecting resources to do it all. The tools are refined, the world is colorful and bright and this indie game supports up to four-player cooperative play. Your imagination is the only thing that limits you as you work to make the world yours. 
Far: Changing Tides (2022)
FAR: Changing Tides from developer Okomotive is one of my favorite indie games of the year so far. The game is the successor to Far: Lone Sails, which swaps sun-scorched, dusty planes for stormy skies and high seas. This highly atmospheric adventure game adds new environments, puzzles, ship mechanics and depth to the ruined world of the series. Are you ready to shove off and sail off into the mystery of this flooded world?
RELATED: 8 Nintendo Switch Games You Can Beat in an Afternoon
West of Loathing (2017)
Asymmetric's West of Loathing is an adventure role-playing game that is jam-packed with humor. Fans of games like South Park: The Stick of Truth or The Henry Stickmin Collection of games will feel right at home in West of Loathing. Pick a starting class and go out to conquer your destiny in the wild, wild west. There are multiple endings to this cow punching, stick figure adventure and the replayability is a big plus in my book. A little tip, be sure to enable the randomized walking sequences. Thank me later!
A Short Hike (2019)
Cellphone service is just A Short Hike away in this open-world adventure game from Adamgyru. This is a game that highly rewards explorations. There is a marked trail that you can follow but you'll never find all the secrets unless you take the road less traveled by. I love the character designs and relaxing feel of this indie game.  10/10 would hike this trail again. 
Garden Story (2021)
Garden Story is a homegrown tale of community and adventure by Picogram and Rose City Games. Fans of games like Stardew Valley are going to feel right at home in this adorable, refreshing world. The visuals are pleasing, the characters are sweetly written and the music is a relaxing delight. You'll fight off the Rot and grow closer to your friends in this affordable action-adventure favorite.
That's our list. What are you going to play first? Have you already played any of the titles here? We'd love to hear what you gamers are playing in the comments. 
10 Characters That Deserve To Be Developed in a HORIZON: ZERO DAWN Novel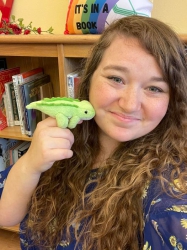 Latest posts by Lauren Darnell
(see all)