Indiana Jones is finally back for a fifth film with a brand-new title and trailer to match. I hope you didn't let your fedora gather too much dust because Indiana Jones and the Dial of Destiny will swing into theaters next year. 
The trailer opens with the voice of John Rhys-Davies' Sallah speaking to Harrison Ford's Indiana Jones, reminiscing about their past adventures. He says there may be one more adventure calling their names, but Indy insists, "those days have come and gone." Yet here we are! 
RELATED: Jay Duplass and Timothy Omundson Join Percy Jackson and the Olympians
Then, we see a montage of quick cuts that includes a classic Indy scene involving whips, guns and perfectly-timed dodges, and we even spot a nod to the Millennium Falcon. Sharp eyes will also see shots of the digitally altered "young Indy," a new film trick we have seen used successfully on Mark Hamill, as well as Indy's goddaughter Helena who is played by Phoebe Waller-Bridge.
Fans were also given a first look at the upcoming movie poster. It is an epic close-up shot of Harrison Ford's face in Indy's signature fedora. It may not reveal anything new about the film, but we are stoked to see it. 
I'm mostly excited to get positive news about Indiana Jones 5. The film has been in production limbo since Disney officially announced it in 2016. It had an initial release in July 2019 that was then pushed to July 2020, which later became July 2021. Thankfully, we have a definite date in place: June 30, 2023. 
RELATED: The Mandalorian Snags Season 3 Premiere Date
Do you think this will be Harrison Ford's last adventure as Indiana Jones? What did you think of the first trailer? Sound off in the comments below!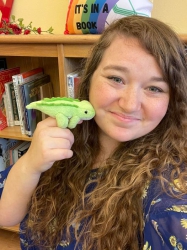 Latest posts by Lauren Darnell
(see all)