Greetings, friends, and welcome everyone to Mobile Game Monday, where we chat about games you can play on the go. If you like to game on a phone or tablet, this is the place for you. Join us every week as we go on all sorts of adventures. 
Hungry Hearts Diner
Hungry Hearts Diner is a cooking-themed idle game created by Gagex and released in 2017. Take on the role of an old woman running a cozy diner in Showa Era Japan. Her husband's health has begun failing, and she must care for the family restaurant alone. Luckily, there are oodles of noodles to cook and plenty of customers to keep her company.
RELATED: Read all of the Mobile Game Monday Adventures here!
Making Japanese home cooking will warm your belly, and forming meaningful relationships with your patrons will warm your heart. Get ready for some cravings and maybe some tears with this adorable and heartwarming mobile game.
Recipes
Start out making basic recipes like rice balls and nori. Leveling recipes will unlock more and more enticing options. Go from making rice to delicious braised pork with a little bit of patience. There are even several drink options and a few desserts to learn. Putting out various dishes, including entrees, sides and drinks, will ensure more customer orders in one sitting. It is all about balance. 
Speaking of balance, resting is just as important as cooking. As an old woman, you only have so much energy each day and must rest to continue cooking (I can relate). There is a heart meter that tells you when it is time to take a load off. You cannot cook any more dishes until you have regained enough energy. Ran out of juice? After about a 10-minute break from the game, your energy will be recharged, and you are ready to get back in the kitchen.
RELATED: F2P Friday: At Winter's End
Upgrades
As you progress in the game and make more money, you can make several upgrades to your little diner. Expand your counter space so you can serve more food at once, or upgrade your prep area so it takes less time to prepare meals. 
The upgrades are pricey, especially at the beginning of the game, with so little money to work with. A little patience goes a long way, and one by one, you will make one significant upgrade after another. Not only will cooking go much smoother, but you will also make money faster. Getting your shop just the way you like it takes time but is worth it in the long run, so grab those upgrades as soon as possible.
Customers
Customers at Hungry Hearts Diner will request specific dishes, so pay attention to which recipes need to be leveled and unlocked. Once you make the customer's favorite dish, their personal story will progress. This is the bread and butter of the game; each customer has their own endearing story that progresses throughout the game.
A young schoolgirl in pigtails requests ham and eggs like her mother used to make before she started working so much. Slick, the aspiring baseball player turned Yakuza member, just wants to taste natto from his hometown. These relationships are the beauty of this game and make for such a rewarding and wholesome experience.  
RELATED: Mobile Game Monday: Stardew Valley
Our Adventure Ends Here
Hungry Hearts Diner is one of the coziest games I have ever played, and I've played tons of cozy games. The soothing background music, the cooking sounds and the snug diner create such a homey ambiance. I don't understand how tiny pictures of food in a game can make me crave something so aggressively. As I was playing, I swear I could smell the food cooking. The chopping and sizzling sounds while you are cooking trigger serious salivation. At one point, I just flat-out started looking up recipes for some of the food in the game. 
The character relationships set this one apart from all the other restaurant management games out there. As you talk to each customer more, their stories become surprisingly complex for a little mobile game. For some, I became genuinely interested in their lives and wondered what would happen next. 
The pacing is well done, and the game never gets too overwhelming or boring. If business is a little slow, you are occasionally offered the option of a frenzy, which is a short rush of customers. Overall, it is a nicely down game that pulls you into this little slice of life in a different time and place. If you enjoyed Hungry Hearts Diner, you are in luck because this is just the first of many games in the series.
Hungry Hearts Diner is free in the Google Play Store and App Store.
Take it easy and play it safe, gamers.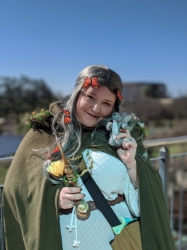 Latest posts by Cassie Holguin
(see all)