There are horror movies that are associated with almost every holiday, Valentine's Day included. However, no one ever associates horror films with epic love stories. Despite that, there are a few outings that include some truly fantastic love stories at their core. Here's a list of horror movies for everyone who wants the thrill of horror with the tear-jerking essence of a love story to watch on Valentine's Day.
The Crow 
The story of The Crow is based on the comic book series by James O'Barr of the same name. The tale centers around Eric Draven (Brandon Lee) and his fiancé Shelly Webster (Sofia Shinas), who are brutally murdered. On the one year anniversary of their death, Eric rises from the grave to take revenge. Not for himself, but for the murder of his lost love. While the majority of the film takes place after their death, it's still one of the greatest love stories to come along. What's more romantic than coming back from the dead just to avenge your love? Eric stops at nothing to get his revenge and protect those he still cares about. If you want a movie that will elicit all of the emotions, this is the one to watch.
The Bride of Chucky
The Child's Play franchise depicts the story of a crazed killer who harnesses powerful voodoo to transfer his soul into a Good Guy doll. After the transfer, the killer, Chucky (Brad Dourif), spends the majority of the films in pursuit of transferring his soul back into a human body. However, in Bride of Chucky, his lover, Tiffany (Jennifer Tilly), attempts to bring him back from supposed death. She accomplishes this task, but she also ends up trapped in a doll herself. After a rough start, the two are reminded of why they were in love before becoming dolls. This movie, like all of the Child's Play movies, is quite crude in language and actions, but it's definitely an interesting horror love story.
RELATED: Movie Review – Child's Play
Blood and Chocolate
Blood and Chocolate is based on the book by the same name written by Annette Curtis Klause. The story follows a young werewolf named Vivian (Agnes Bruckner). She must keep her family's secret at all costs, but when she meets a fascinating human Aiden (Hugh Dancy), things begin to change. As she falls for this human more and more, she has to decide whether she will protect him or her pack. Vivian must essentially determine whether her overbearing werewolf family is more important than her true love who happens to be human. Blood and Chocolate is definitely a horror love story to enjoy on Valentine's Day.
Red Riding Hood
Red Riding Hood is a take on the traditional fairytale Little Red Riding Hood. In this version, the "wolf" is a werewolf that has gone on a slaughtering spree. Valerie a.k.a. Little Red Riding Hood (Amanda Seyfried) is in love with Peter (Shiloh Fernandez), but her parents have promised her to Henry (Max Irons). Through all of the violence, will love prevail? Can Peter and Valerie save each other? Who is the wolf? Will anyone survive?
IT Chapter Two
IT Chapter Two has several love stories to note. After the terrifying events of IT Chapter One, the Losers Club drifts apart and forgets about what transpired in Derry. Unfortunately, when the monster returns, so does the Losers Club so that they may fulfill their oath. Beverly (Jessica Chastain) and Bill (James McAvoy) quickly reunite after having developed feelings for each other in Chapter One.
However, Beverly likes Bill because of a poem she thinks he wrote for her. She comes to realize that it was really Ben (Jay Ryan) that had written it. They find their way to each other through all of the frightening events they face. There is also a second love story that doesn't have such a happy ending. Richie (Bill Hader) and Eddie (James Ransone) were always the best of friends, but questions arose as to whether Richie had always wanted more. Sadly, they don't get a happily ever after. IT Chapter Two is full of horror love stories.
RELATED: Geek Girl Authority Crush of the Week: Beverly Marsh
Honorable Mentions
Warm Bodies – This zombie horror-comedy is literally all about love. After the world becomes infested with zombies, one of the undead, R (Nicholas Hoult), begins to change after he meets one special human woman, Julie (Teresa Palmer). Turns out, the answer to the apocalypse is love. Warm Bodies is based on a book by the same name written by Isaac Marion.
Zombieland – Zombieland is another horror-comedy, but this one follows a group of survivors as they travel across the country in search of a "safe place." Along the way, Columbus (Jesse Eisenberg) and Wichita (Emma Stone) find their own love story in the middle of the zombie apocalypse.
What is your favorite horror love story? Is it on this list? Let us know in the comments!
This article was originally published on 2/12/21.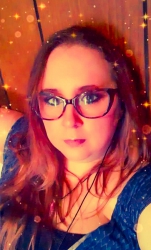 Latest posts by Becca Stalnaker
(see all)