In a new trailer, Amsterdam-based Guerrilla Games gave gamers their first look at Horizon Zero Dawn for PC. Coming hot on the heels of the announcement for Horizon Forbidden West, this trailer shows Aloy and the world of Horizon like we have never seen before.
From the first moments of the trailer, we can see how much Horizon has benefited from PC-level graphics. Character details and snow effects are clearer and more vibrant as the Eclipse cultists massacre the Nora.
The trailer shows off several notable features of the PC version. Horizon Zero Dawn: Complete Edition for PC includes support for modern ultra-wide monitors and screens.
The game also features unlocked frame rates, which means that increase of decrease the frames-per-second of their game for optimal graphics performance. Whatever the refresh rate of your monitor, gamers can adjust their FPS to find the perfect balance.
Foliage is also noticeably more dynamic, with plants being more realistic in appearance, and more reactive to weather and movement.
In spite of what Guerrilla previously announced, HZD is indeed shipping with a field-of-view slider. Graphics customization also includes sliders for FPS limits (to prevent the game from breaking at too high a frame rate) and render scale (to prevent your PC from rendering objects and characters too quickly or too slowly). Horizon also offers quality presets to quickly change all your graphics settings with a single selection.
Horizon also includes improved features such as better reflections and the ability to play with either mouse and keyboard or a regular console controller.
RELATED: HORIZON ZERO DAWN Is Making Its Way to PC
But the most exciting feature of all? A built-in benchmarking tool! No more cross-referencing a developer's list of minimum requirements with a list of CPUs or video cards from PassMark Software. Horizon will tell you in-game how your PC is as it runs HZD, and what it can handle.
Horizon Zero Dawn: Complete Edition releases to PC on Steam and Epic Games Store on August 7, 2020.  It will include the full game, The Frozen Wilds DLC expansion, the digital art book, the Carja Storm Ranger and Banuk Trailblazer outfits, the Carja Mighty Bow and Banuk Culling Bow weapons, and the Carja Trader and Nora Keeper packs.
HORIZON ZERO DAWN PC Features Trailer: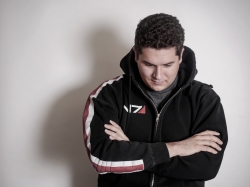 Latest posts by Tyler Boyce
(see all)