Sony announced the next generation of virtual reality with PlayStation VR2. A press release provided technical details about the PSVR2's controller and setup. Joining this announcement is the equally huge reveal that Guerrilla Games has developed a new Horizon Zero Dawn game as one of the PSVR2 launch titles!
Building on the technical achievements of the PlayStation 5, PSVR2 seeks to add truly next-gen immersion to VR. A 4K OLED display offers high-fidelity visuals.
PSVR2 combines controller and eye tracking with a new PlayStation VR2 Sense Technology. The headset controller features feedback based on the haptic feedback of the PS5 controller. Additionally, combined with 3D audio, it will amplify the player's in-game actions. You won't only hear an arrow whizzing by your head. Ostensibly, you will FEEL it too!
RELATED: 12 Most Anticipated Video Games Releasing in 2022
Jan-Bart van Beek (one of Guerrilla's Studio Directors) began his announcement by confirming they're still hard at work on Horizon Forbidden West. "It's only a few more weeks," Van Beek assures as he ensures the February 18 release date.
Van Beek added that Forbidden West is far from the "Final Frontier" for the exclusive PlayStation franchise. To that point, he revealed Horizon Call of the Mountain, developed in collaboration with Firesprite Games.
This unique Horizon Zero Dawn experience is purpose-built from the ground up for the new PSVR2. It allows players to interact with (if not feel) the world of Horizon that wouldn't be possible with previous consoles.
In the teaser trailer, a Carja guard helps paddle a boat down a river. A feminine voice (assumed to be the player POV) notices a Tallneck, heading right for them! The Carja and the player quickly paddle. They barely duck under the towering Machine's rear "hoof" as the trailer cuts to the game title.
What do you think? Are you hyped for the future of PlayStation VR? Or are you eagerly waiting to pick up your Horizon Forbidden West pre-order? Geek Girl Authority will provide all the gaming news you need!
Horizon Call of the Mountain — Teaser Trailer: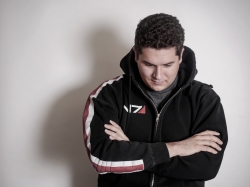 Latest posts by Tyler Boyce
(see all)