If you haven't fired up Heroes of the Storm in a while, now would be a great time. The Lunar Festival has begun and with this new event comes new loot.
The event started on February 6th and will run until March 5th. All Loot Chests earned (with the exception of Hero-specific chests) through leveling up, Heroes Brawl or bought with gems will be Lunar Festival-specific and they will contain new skins, mounts, sprays, and portraits.  There is also a new Heroes Brawl and in-game quest.
RELATED: Warcraft's Maiev Shadowsong Has Arrived in Heroes of the Storm
New Skins and Mounts
There will new epic skins for Sylvanas and Kael'thas and rare skins for Zul'jin and Cassia. There will also be Lunar skins for Arthas, Asmodan, Chen, Genji, Illidan, LiLi, Jaina, and Li-Ming. Players can earn two Legendary mounts: Lunar Guardian and Lunar Sky Rocket. In addition to the new skins and mounts, there are Lunar Festival-themed portraits and sprays available.
New Brawl: Lunar Rocket Racing  
Have you ever thought that Mario Kart could use more rockets and more Tassadar? In the Lunar Rocket Racing brawl, players will mount up on Lunar Festival-themed rockets and race to the finish. To win, players must complete 7 laps, and there will be envelops throughout the track that will give racers access to different abilities. Be careful because Heroes can easily get knocked off their mounts (which is ultimately the point).
Lunar Festival Quest
The Lunar Festival Quest can be completed in Versus AI, Quick Match, Ranked and Unranked modes. Each part of the quest must be completed sequentially.
Playing 2 games earns you a Lunar Skyrocket spray.
Playing 5 more games earns you a Lunar Warcrest.
Playing 8 more games earns you a Lunar Guardian portrait.
Playing 10 more game earns you a Lunar Skyrocket mount.
You can watch the trailer for the Lunar Festival event below and also see more skins and mount screenshots in the Gallery.
Gallery
[Images courtesy pf Blizzard Entertainment]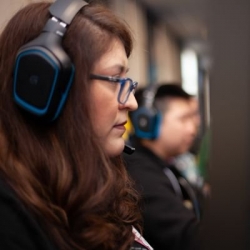 Latest posts by Renee Lopez
(see all)