Standing outside the mock city training ground, Izuku Midoriya quakes with nerves, uncertain of his grasp on his newly acquired power and intimidated by the preparedness of the other applicants. Conversely, they all look back at him wondering what this nervous goof-off expects to achieve at a school as rigorous as UA. Izuku notices the kind girl who prevented his tumble earlier, but is reprimanded by the same bookish student who reprimanded him in the lecture hall. Everyone here is serious about this test, and none of them believe Izuku knows what he's up against.
Seemingly expecting a signal to start the test, the group is roused by the voice of Present Mic. From atop a watchtower, the amplified hero yells that the test has already begun– there are no countdowns in a real fight. With that revelation, everyone rushes through the gates with Izuku dragging behind the pack.
Large robots, playing the role of villains, dart out from between buildings to engage the teens. Just three hours earlier, Izuku was swallowing a strand of his mentor's hair. Now, a killer robot bares down on him and, unsure of the power granted by that hair, he freezes. Before he can work up his courage, or be pummeled by the robot, a laser beam blasts the machine to pieces. A supremely confident boy who can project a laser from his belly button thanks Izuku for distracting the robot, then heads back in to the fray. Everyone is smashing up robots and racking up points, yet Izuku still hasn't landed a single blow.
The pressure mounts to catch up with the double digit scores of the other students when, from their command center, the UA faculty activate the largest robot. A skyscraper sized destructive force, this enemy is not worth any points, so the students flee en mass. Once again, Izuku takes a tumble, but this time without a friendly gravity defying girl to help him. He stares up at the robot as his peers sprint by, until his attention is drawn by a whimper.
That friendly gravity reversing girl is pinned under rubble, right in the monstrous robot's path. Not a moment passes before, as with the slime guy strangling Bakugo, Izuku scrambles to his feet and rushes toward the towering machine. Leaping in to the sky nearly too quickly for the human eye to track, Izuku recalls All Might's instructions for activating the power of One for All: squeeze your buttocks, and yell from inside your heart, "Smash!" His limbs glow, his muscles bulge, and with a single devastating punch he caves in the robot's head and sends it reeling.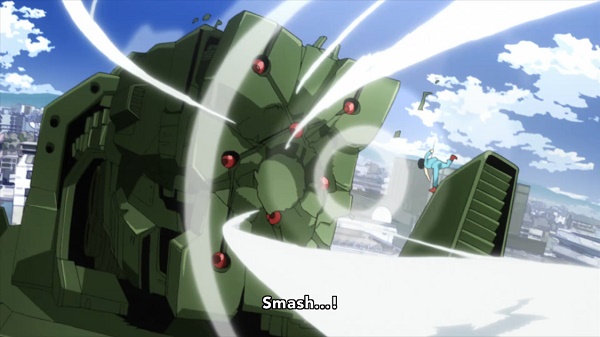 Unfortunately, ten months of training only prepared his body so much. All Might had warned him about the possible physical ramifications from using One for All with so little training and experience. Having rushed headlong in to danger, Izuku was hardly prepared for the fallout. His light speed jump shattered both of his legs, and his meteoric punch turned his right arm to a bruised limp noodle. And, he's dozens of feet in the air with no way to break his fall.
Gravity catches up to him while he tries to puzzle out the possibility of breaking his fall with another punch from his last remaining limb, potentially saving his life but definitely ending his participation in the test. Speeding toward the ground, a slap to the face halts his plummet. Once again, the nice girl with gravity powers stopped his face from meeting the pavement. Even with one limb still intact, Izuku's opportunities are stymied when the test's time runs out.
This sequence is both the greatest, and the most irritating. On one hand, Izuku really proves the value of his heroic instincts, and his fatalistic attack on the robot stirs the heart. On the other, how is the girl with gravity powers the one pinned under rubble? Couldn't she use her power to levitate the rubble off of her? While it furthers these two characters' investment in one another, it undermines her power, and by having Izuku's heroics be an act of reciprocity, it undermines them a little, too. It still makes me cry, though, so whatever.
With the test concluded, the students crowd around the mangled body of the doofus they'd mocked minutes prior. They struggle to reconcile his astonishing strength and bravery with his awkward personality and extensive self inflicted injury. The abrasive bookish student from earlier is certain of one thing: had this not been a test, he definitely would have sacrificed himself instead of running away.
As is the case in most "teens go to deadly magic school" scenarios, none of this curriculum would be possible without the aid of UA's nurse, Recovery Girl. A single kiss from this adorable little old lady will supercharge a person's natural healing abilities, consuming their stamina in exchange for rapid recovery from grave injuries. A peck on Izuku's head straightens his noodled limbs back in to sturdy legs and an arm.
A week later, Izuku lazes about the house, casually working out and going over the numbers in his head. He's certain his written test results won't make up for his total lack of robot smashing points. Uncertainty weighs on him, and in turn his mother, and All Might is not around to clear the air. That is, until his mother bursts in to the room with an envelope from UA. The show is called My Hero Academia, after all, so there's really only one way this can play out.
Out of the shredded envelope tumbles a hologram projector, and the hologram it projects is of none other than All Might. Izuku's idol and mentor explains that he's been hard to reach due to the bureaucracy of starting his new position as a teacher at UA. And why else would Izuku be receiving a hologram projector from UA than to learn that there was more to that test than smashing angry robots. The greatest trait a hero can have is the desire to protect others. What kind of hero proficiency test wouldn't take that into account? With the introduction of "Rescue Points," Izuku is rewarded for saving the gravity girl, Ochako Uraraka, and she is rewarded for saving him.
No doi. Of course he passed the test! Now begins his hero academia.
Latest posts by Tom Laurie
(see all)