Being a hero– a professional hero– is hard. It's not just the luck of being born with a powerful gift, or the training to master that gift, or finding your niche. It's all of those things, and a bottomless well of selfless struggle. This is the dividing line between heroes and villains. Villains can be driven to any goal and give any reason, but there's always a selfishness at the center of their ambition. Heroes put their lives on the line, giving their all for the sake of others. It's this core trait that draws Izuku Midoriya to the greatest hero, the Symbol of Peace, All Might. Izuku didn't watch videos of All Might cratering villains with devastating punches. He watched videos of All Might pulling dozens of people from the rubble.
The students at UA are all ambitious– otherwise they wouldn't have been admitted. Many of them are gifted with overwhelming power. Some aspire to All Might's notoriety. None understand what it really means to be a professional hero in this world of people with unimaginable Quirks. The door to the Unforeseen Situation Joint explodes off the hinges, and from the wreckage emerges All Might; dressed for class, and angry as hell.
The League of Villains has done well sneak on campus. They seem to have chanced into a unique combination of luck and careful planning. Not only has All Might arrived just before their planned retreat, but he does so after spending all morning saving lives and using up his power. He only has a few hours to use his Quirk, All For One, each day, and now he's down to his last few minutes. Against most of the lackeys of the League of Villains, it's more than enough. He dashes through their ranks, knocking them out faster than they can react, and scoops up his fallen colleague, Aizawa.
In another moment, he attacks Handman and whisks Izuku, Tsu and Mineta out of harm's way and tasks them with getting Aizawa to safety. It all happens faster than the eye can see, but one of Handman's many hands has been knocked loose, further amping up his creepiness. The weirdo mutters about his father as he recovers the hand, placing it back on his face. There's something seriously messed up going on with those hands. I'm assuming they're the hands of his dead family members, but I also can't imagine him rising through the ranks of a villain organization without benefiting from nepotism. Regardless, he and his warp gate partner, Kurogiri, will not be putting their lives on the line. That task falls to their genetically engineered monster, Nomu.
The creature matches All Might's speed and strength to the extent that Handman is comfortable sharing its strengths and weaknesses. Nomu's Quirk allows it to absorb the shock of All Might's punches, so All Might grips it by the waste and suplexes it into the ground, hoping to leave it open for a finite attack. This fight is still three on one, however. Kurogiri has opened a warp gate where Nomu penetrated the ground, and opened another below All Might's arched back. The creature reaches through the portal, digging its hands into All Might's torso, drawing blood from the years old injury that spurs All Might's decline.
It was never their plan for Nomu to actually kill All Might; just to hold him in place long enough for Kurogiri to dismember him between warp gates. It's the sort of plan that could work, were it actually three on one, but these villains have severely underestimated the students of UA. Arriving in the nick of time, Bakugo subdues Kurogiri, putting to use the insight he gleaned earlier to pin the amorphous being's metallic form under his explosive palm. With the warp gate held open, Todoroki steps in with an icy foot, freezing Nomu enough for All Might to break free from its grasp.
The boys like their five on three odds, but this isn't a fight for them. They may be gifted, but they're still students. Nomu pries itself from the warp gate, shattering its frozen limbs and revealing further terror of its form. Where an arm and leg fell off, flesh sprouts and skin grows, forming a brand new arm and leg as quickly as they had been destroyed. The reformed beast lunges at Bakugo to free Kurogiri, ready to deliver a fatal punch, so quickly that only All Might can see. Finding himself swept away from the impact, Bakugo and the boys are confused as to what just happened.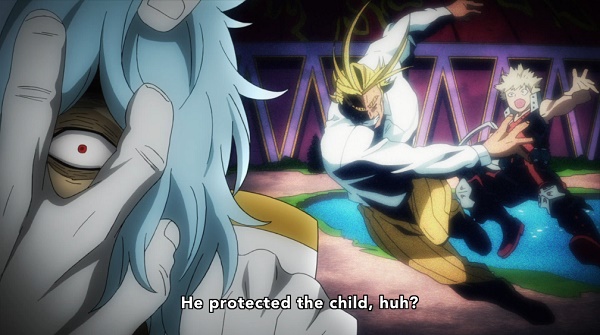 Kurogiri is free to rejoin his handy friend, and the dust clears to reveal All Might, tattered and bloodied, but smiling. Heroes put their lives on the line for others every day, and All Might is now ready to make this a one on one fight. Handman and Kurogiri try to engage the students, but Nomu and All Might are at blows before they know it. The impact of their punches sends gusts of wind so strong that no one can approach the melee.
The League of Villains created Nomu to fight for them, but the creature doesn't seem to have a concept of self, let alone self sacrifice. It is a tool of the selfish, meant to contain the fury of the selfless, but designed based on a misunderstanding of selflessness. Through this flaw, All Might glimpses victory. If Nomu was built to withstand 100% of All Might's strength, then he'll just have to do as everyone at UA is taught: Go Beyond. Burning the entirety of his Quirk's power, planting an explosive punch in Nomu's gut, All Might bellows a question for his opponent.
"Hey villain, have you ever heard these words? Go beyond. Plus Ultra!"
Latest posts by Tom Laurie
(see all)