BlizzCon 2017 is almost upon us and today Blizzard Entertainment did a livestream to kick off the festivities. This will be the 11th year for the annual celebration of all things Blizzard and it will be held on November 3rd and 4th at the Anaheim Convention Center. We can expect to see a lot of news coming out of the event, as well as esports championship events for Hearthstone, Heroes of the Storm, World of Warcraft, StarCraft II, and Overwatch. There might even been something from Diablo. 
BlizzCon Virtual Ticket Enhancements
They will be adding two additional stages including the Mythic Stage (Hall D), the Legendary Stage, the Epic Stage and the Heroic Stage. They will show more of the convention floor as well as the Hearthstone Tavern, the Darkmoon Faire, the demo areas, and there will be more developer, pro player, cosplayer, and caster interviews. We'll also get a look into the restricted areas.
Blizzard All-Access Channel
The three hosts for BlizzCon 2017, Alex Albrecht, Michele Morrow, and Malik Forté, will also be a part of the new all-access channel where they will be bringing back the Blizz Couch, a staple from previous BlizzCons.
Esports Coverage
There will also be more esports coverage than before on BlizzCon.com.
Championships include:
The WoW Arena: Teams will be vying for a prize pool worth $125,000.
Heroes of the Storm Championship: The prize pool for this championship will be $500,000
StarCraft II Championship: The prize pool will be $700,000 with $280,000 going to the winners.
Overwatch World Cup: Contenders in the World Cup could possibly potential players in the new Overwatch League.
Hearthstone Invitational: This will be a team-based invitational for the first time ever.
BlizzCon.com has also been revamped to give viewers a better experience. You can select you favorite games so that you only see those panels. You can also filter those options to something more granular like art, music, or developer interviews. Everything can be archived as well so you will be able to see content at any time. There will also be a BlizzCon mobile app that will also give you access to all the content.
 "BlizzCon has really evolved from when we first started,"  Blizzard President and CEO Mike Morhaime explained,  "The amount of content that is produced during those two days it's actually pretty overwhelming. But we got a lot of feedback from our community last year. There were some stages that weren't covered in the Virtual Ticket and folks were pretty disappointed by that…We agreed with it. Folks want to see what's going on at BlizzCon, they want to see what is happening at all the stages. We want to make the Virtual Ticket really the next best thing to being there. So we took a step back and looked at how we were approaching Virtual Ticket and made a lot changes this year…There won't be any stage-produced content that is not a part of Virtual Ticket this year."
Content will be available for up to a month so you don't have to miss anything. There will also be weekly episodic content leading up to BlizzCon. Some of the content will be free, but Virtual Ticket Holders will have more access.
First In-Game Item Revealed
The first item released today were new mounts of World of Warcraft including the super sweet Stormwind Skychaser.
And the awesome Orgrimmar Interceptor!
These mounts will allow you to bring a friend along with you for the ride.
The mounts are also the first BlizzCon mounts released since the BlizzCon bear mount in 2008.
New Show Floor
There will be a brand new hall at the Anaheim Convention Center that BlizzCon will take full advantage of which will make the BlizzCon 2017 the biggest BlizzCon to date. It is not clear what will happen in this new hall, but expect it to be epic.
Countdown to BlizzCon Weekly Video Listing
As it was revealed earlier there will be a weekly video posted on BlizzCon.com. Videos include:
The Artists' Journey
The Year in Review
Developer Q&A
Casual Cosplay
Advanced Cosplay
Inside the Blizzard Vault
The Music of Blizzard
And more!
The BlizzCon Goody Bag and Epic Upgrade
For the first time this year everyone will have an opportunity to buy a goody bag regardless of whether you are attending BlizzCon in person or watching through the Virtual Ticket.
Items includes:
A BlizzCon-themed backpack with a Velcro front.
Badge icon patches from the different Blizzard games that can stick to the front of the backpack.
One Series 4 blind pick.
Cute But Deadly Series 3 vinyl Overwatch
Overwatch backpack hanger.
There will also be a BlizzCon Goody Bag Epic Upgrade which includes these additional items:
Blind pick badge booster pack with three badges.
Regular base pack blind pick Overwatch backpack hanger.
Addition Series 4 blind pick pin.
Additional Cute But Deadly blind pick vinyl figure.
BlizzCon 2017 gold Merchy pin (it's a gold Murloc pushing a shopping card).
The regular goody bag goes for $45.00 and the epic goody bag will cost $70.00. These are now available on BlizzCon.com.
Keep an eye out on BlizzCon.com and Geek Girl Authority for more videos and information. We will see you at BlizzCon 2017!
[Photo credits: Blizzard Entertainment]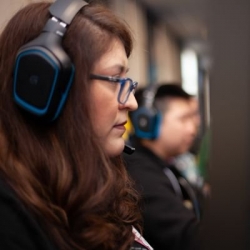 Latest posts by Renee Lopez
(see all)