---
The big night is here everyone! The Game Awards 2016, a two-hour extravaganza celebrating the games, the fans, and the studios that brought us this year's biggest games is upon us. The winners were chosen by 29 national and international media and social media outlets with some fans voting on a few categories.
There were some really great moments throughout the ceremony, from the world premieres of games like Death Stranding, Dauntless, Prey, Shovel Knight: Specter of Torment, Guardians of the Galaxy, and Halo Wars 2 to the touching speech from Ryan Green, the co-creator of That Dragon, Cancer. There were also some amazing gameplay footage from The Legend of Zelda: Breath of the Wild, and Mass Effect: Andromeda.
Among the big winners were Overwatch and Blizzard Entertainment who took home four awards including Game of the Year, Best eSports Game, Best Multiplayer, and Best Game Direction. Indie game Inside won two awards including Best Art Direction and Best Independent Game. Uncharted 4: A Thief's End, the last game of the series, won Best Narrative and Best Performance for voice actor Nolan North. Pokemon Go also took home a couple of awards for Best Family Game and Best Mobile/Handheld Game. Doom also got some love with wins for Best Music/Sound Design and Best Action Game.
Let's get to the winners!
INDUSTRY ICON AWARD – Hideo Kojima, creator of the Metal Gear Solid series
GAME OF THE YEAR
Recognizing a game that delivers the absolute best experience across all creative and technical fields.
BEST STUDIO/GAME DIRECTION
Recognizing a game studio for outstanding creative vision and innovation in game direction and design.
BEST NARRATIVE
For outstanding storytelling and narrative development in a game.
BEST ART DIRECTION
For outstanding creative and technical achievement in artistic design and animation.
BEST MUSIC/SOUND DESIGN
For outstanding audio, inclusive of score, original song, licensed soundtrack and sound design.
BEST PERFORMANCE
Award to an individual for voice-over acting, motion and/or performance capture.
Alex Hernandez as Lincoln Clay, Mafia III (Hangar 13/2K)
Cissy Jones as Delilah, Firewatch (Campo Santo)
Emily Rose as Elena, Uncharted 4: A Thief's End (Naughty Dog/Sony Interactive)
Nolan North as Nathan Drake, Uncharted 4: A Thief's End (Naughty Dog/Sony Interactive) – WINNER
Rich Sommer as Henry, Firewatch (Campo Santo)
Troy Baker as Sam Drake, Uncharted 4: A Thief's End (Naughty Dog/Sony Interactive)
GAMES FOR IMPACT AWARD
For a though provoking game with a profound pro-social meaning or message.
BEST INDEPENDENT GAME
For outstanding creative and technical achievement in a game made outside the traditional publisher system.
BEST MOBILE/HANDHELD GAME
For the best game playable on portables devices, including mobile phones and dedicated gaming handhelds.
BEST VR GAME
For the best game experience playable in virtual reality.
BEST ACTION GAME
For the best games in the action genre focused on combat.
BEST ACTION/ADVENTURE GAME
The best action/adventure games, combining combat with traversal and puzzle solving.
BEST ROLE PLAYING GAME
The best games designed for rich player character customization and progression, both offline and online, including massively multiplayer.
BEST FIGHTING GAME
For a game designed primarily around head-to-head combat.
BEST FAMILY GAME
Best game appropriate for family play, including toys-to-life, rhythm/music/dance, and other genres.
BEST STRATEGY GAME
Best game focused on real time or turn-based strategy gameplay.
BEST SPORTS/RACING GAME 
For traditional and non-traditional sports and racing games.
BEST MULTIPLAYER GAME
For outstanding online multiplayer gameplay and design, including co-op and massively multiplayer experiences.
BEST ESPORTS PLAYER
The eSports player judged to be the most outstanding performer in 2016, irrespective of game.
Faker (Lee Sang-hyeok) SK Telecom T1, League of Legends
Coldzera (Marcelo David) SK Gaming, Counter-Strike: Global Offensive – WINNER 
ByuN (Hyun Woo) Starcraft II
Infiltration (Lee Seon-woo) Team Razer, Street Fighter V
Hungrybox (Juan Debiedma) Team Liquid, Super Smash Bros.
BEST ESPORTS TEAM
The eSports team organization judged to be the most outstanding for performance in 2016, irrespective of game.
SK Telecom T1 (League of Legends)
Wings Gaming (DOTA2)
SK Gaming
Rox Tigers (League of Legends)
Cloud9 – WINNER
BEST ESPORTS GAME
The eSports game that has demonstrated creative and technical excellence in 2016 with the best gameplay, community support and content updates.
TRENDING GAMER
For a streamer/influencer/media member who has made an important impact on the industry in 2016.
BEST FAN CREATION
For fan-created content, such as MODs, fan films, and other player content.
MOST ANTICIPATED GAME
Recognizing an upcoming game that has shown significant ambition and promise in moving the gaming medium forward.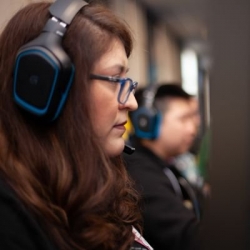 Latest posts by Renee Lopez
(see all)