2016 is all over, but it ended on a high note with the first-ever Steam Awards. These awards, voted on by Steam users, show us just how much fun we can have when handing out awards and accolades. If you didn't get a chance to vote, have no fear, I'm sure we'll be seeing The Steam Awards 2017.
Grand Theft Auto V and Euro Truck Simulator 2 led the pack with two wins apiece.  The rest of the winners include favorites like Skyrim, Portal 2 and DOOM. There were some surprise wins, too, with games like Goat Simulator taking the "Best Use of a Farm Animal" award and Counter-Strike: Global Offensive winning the "Just 5 More Minutes" award.
In looking at the list of nominees and checking out some of the trailers, I think I'll be adding a few more games to my "Game to Play in 2017" list. Starbound and Darkest Dungeon, I'm looking at you.
On to the winners!
"VILLAIN MOST IN NEED OF A HUG"
Some people just need a hug.
Portal 2 (Valve) – WINNER
Farcry 4 (Ubisoft)
Farcry 3 (Ubisoft)
Borderlands 2 (Gearbox Software/2K Games)
Dead by Deadlight (Behaviour Digital Inc./Starbreeze Studios)
"I THOUGHT THIS GAME WAS COOL BEFORE IT WON AN AWARD"
This title didn't have a huge marketing machine behind it, but you found it and loved it. Then you told your friends about it. And they loved it. And now that little game that could is about to win an award…but always remember: you totally found it first.
Starbound (Chucklefish Games)
Stardew Valley (Chucklefish Games)
Euro Truck Simulator 2 (SCS Software) – WINNER
Unturned (Smartly Dressed Games)
Paladins (Hi-Rez Studios)
"TEST OF TIME"
This award is for the game that is just as good today as the day you first played it. Newer games may come out, but it doesn't matter…you'll always come back to play this one.
Team Fortress 2 (Valve)
Sid Meier's Civilization V (Firaxis Games/2K Games)
The Elder Scroll V: Skyrim (Bethesda) – WINNER
Terraria (Re-Logic)
Age of Empires II (Skybox Labs/Microsoft Studios)
"JUST 5 MORE MINUTES"
You have an early day tomorrow. You need to get some sleep, so you're just going finish one more thing before you decide to tuck in for the night. Just one more. Wait, one more. What's that you say? It's 2:30 AM? This award is for the game that keeps you playing late.
Fallout 4 (Bethesda)
Counter-Strike: Global Offensive (Valve) – WINNER
Sid Meier's Civilization VI (Firaxis Games/2K Games)
Terraria (Re-Logic)
Rocket League (Psyonix)
"WHOOOAAAAAAA, DUDE!"
Some games melt your face. Maybe it was a crazy plot twist. Maybe you just got your wisdom teeth removed. Either way, this game BLOWS YOUR MIND.
The Witcher 3: Wild Hunt (CD PROJEKT RED)
BioShock Infinite (Irrational Games/2K Games)
Grand Theft Auto V (Rockstar North/Rockstar Games) – WINNER
Metal Gear Solid V: The Phantom Pain (Konami)
DOOM (id Software/Bethesda)
 "GAME WITHIN A GAME"
Kinder Eggs. Peanut Butter Cups. Jelly Donuts. All great things stuffed with other great things. Like a mighty turducken, this award celebrates the best mini game hidden within another game.
Grand Theft Auto V (Rockstar North/Rockstar Games) – WINNER
The Witcher 3: Wild Hunt (CD PROJEKT RED)
Garry's Mod (Facepunch Studios/Valve)
The Stanley Parable (Galactic Cafe)
Tabletop Simulator (Berserk Games)
"I'M NOT CRYING, THERE'S SOMETHING IN MY EYE"
Games are fun. But sometimes games become more than that, and touch you in a way you weren't expecting. This award celebrates the game that blindsided you emotionally. You weren't expecting to cry. It wasn't in the plan. But it happened none the less.
The Walking Dead (Telltale Games) -WINNER
To The Moon (Freebird Games)
Life is Strange (DONTNOD Entertainment/Square Enix)
Undertale (tobyfox)
This War of Mine (11 bit studios)
"BEST USE OF A FARM ANIMAL"
Animals are rad and almost any game is better for including them. However this game used a farm animal in the best way possible.
Blood and Bacon (Big Corporation/Grunge Games LTD)
Stardew Valley (Chucklefish Games)
Farming Simulator 17 (Giants Software/Focus Home Interactive)
Goat Simulator (Coffee Stain Studios) – WINNER
ARK: Survival Evolved (Studio Wildcard)
"BOOM BOOM"
Let's face it: explosions are pretty great. In a blockbuster movie they're thrilling. In a celebration with fireworks they're beautiful. And when they're behind a cop putting on sunglasses they're nothing short of glorious. These games understand the fine art of detonation.
DOOM (id Software/Bethesda) – WINNER
Just Cause 3 (Avalanche Studios/Square Enix)
Broforce (Free Lives/Devolver Digital)
Kerbal Space Program (Squad)
Keep Talking and Nobody Explodes (Steel Crate Games)
"LOVE/HATE RELATIONSHIP"
"Games are just supposed to be fun!"… oh sweet summer child, your naivety is adorable. Games can be more than fun. They can be challenges that demand perfection. These games are punishing gauntlets that make you question your very skill… a crucible that will push you either to greatness or a breaking point. You will wake up family members as you scream. Words will come out of your mouth that would make your mom blush. Your chill friends will ask you "why do you play something that stresses you out"… and you will stare at them with steely eyes and reply, "Because I love it."
Geometry Dash (RobTop Games)
Dark Souls III (FromSoftware, Inc./BANDAI NAMCO) – WINNER
Dota 2 (Valve)
Darkest Dungeon (Red Hook Studios)
Super Meat Boy (Team Meat)
"SIT BACK AND RELAX"
Did you read the description for the "Love/Hate Relationship" Award? This is the opposite.
Euro Truck Simulator 2 (SCS Software) – WINNER
Mini Metro (Dinosaur Polo Club)
Cities: Skylines (Colossal Order Ltd./Paradox Interactive)
ABZU (Giant Squid/505 Games)
Viridi (Ice Water Games)
"BETTER WITH FRIENDS"
There are some games out there that just aren't the same when you play by yourself. Maybe you need to have a friend to watch your back. Maybe you need to have a friend that you can stab in their back. Either way, mirth is awaiting those that gather friends to play these games.
Don't Starve Together (Klei Entertainment)
Gang Beasts (Boneloaf/Double Fine)
Left 4 Dead 2 (Valve) – WINNER
Magicka (Arrowhead Game Studios/Paradox Interactive)
Golf With Your Friends (Blacklight Interactive)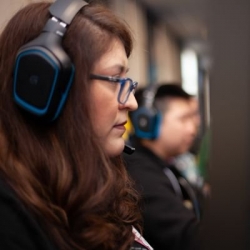 Latest posts by Renee Lopez
(see all)