We have happy hearts after the last episode of Netflix's adaptation of Alice Oseman's Heartstopper. Nick (Kit Connor) and Charlie (John Locke) seem to be finding their footing. Episode six, "Girls," shifts focus to Tara (Corrina Brown) and Darcy (Kizzy Edgell) as they deal with the side effects of posting their relationship on social media. Is Tara ready for everyone's opinions to surface? Let's find out!
DISCLAIMER: This is a recap and, by definition, contains spoilers. If you haven't watched Heartstopper yet, I suggest checking it out first! Also, be mindful that this series deals with heavy themes that will be discussed below.
RELATED: 7 Graphic Novels in Celebration of Trans Day of Visibility!

"Girls" opens as Nick and his mom (Olivia Colman) get ready for a movie night. She wants to watch Mama Mia (good choice mom), but Nick is interested in something a bit more LGBTQIA+. In the end, they settle on Pirates of the Caribbean. A scene between Keira Knightley and Orlando Bloom brings on some feelings and Nick realizes that he might actually be bisexual.
The next day, Elle (Yasmin Finney), Darcy and Tara are hanging out at lunch. Tara reads through comments on her "coming out" post and deletes idiotic comments while Elle is busy texting Tao (William Gao). Elle opens up about her crush on Tao but doesn't want to tell him for fear of losing their friendship. We jump over at Truham real quick, where Harry (Cormac Hyde-Corrin) begins messing with Tao and Charlie and Tao fires back. He gets in a good jab and they walk past Nick and Imogen (Rhea Norwood) on the way in. Tao clearly isn't happy that Nick isn't saying anything to his friends about how they are treating Charlie, but he doesn't say anything about it.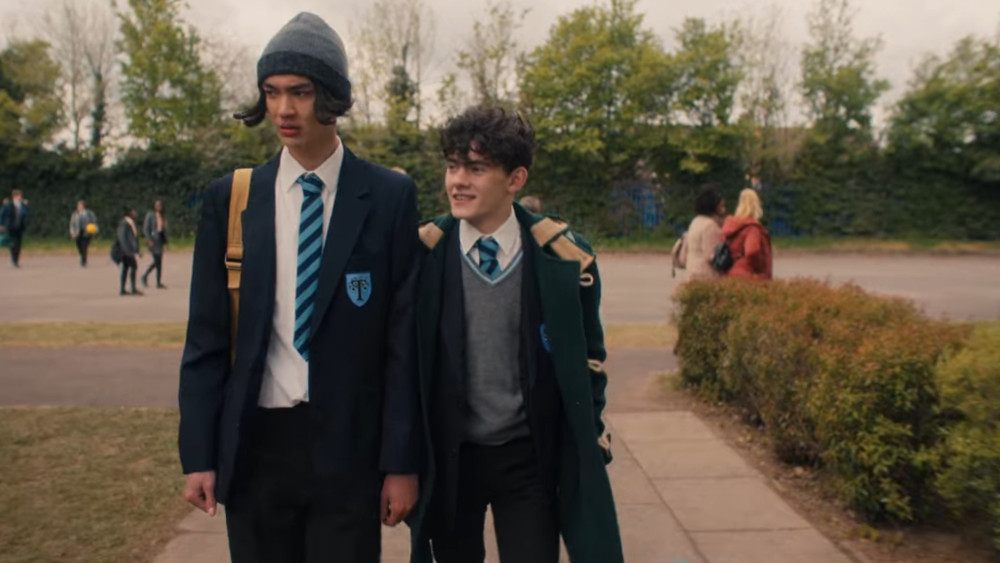 Back at Higgs, Tara is still dealing with stupid comments on her Instagram post. Darcy finds her hiding in their special room, where they shared their first kiss. Darcy tries to ask her what is going on, but the music teacher finds them and yells at them for running behind for rehearsal. It seems like the homophobic comments aren't just popping up on Instagram. Tara and Darcy are subjected to them even during the rehearsal. I am going to start packing cheese to throw at people who are being homophobic.
"Girls" jumps to Nick and Charlie on a picnic together. Nick asks Charlie when he realized that he is gay. Charlie shares how he had a feeling when he was younger, but not everyone has that. Nick doesn't need to rush to figure out who he is, even if that fear means their relationship is weird. We stan supportive boyfriends! Back at home, Nick continues to research bisexuality.
At school the next day, Nick walks Charlie to rehearsal when he bumps into Tara. The two chat and catch up and Nick tells her that he is seeing Charlie. The first person he has opened up to about their relationship. Tara and Darcy spend their lunch break with Nick and they ask if he wants to be out yet. Judging by how his friends act and how the school bullied Charlie, I can understand why he is hesitant.
On their way back to the gym, Nick asks Tara if she is a lesbian or bisexual and how she came to know it. Fully lesbian and kissing Nick at 13 was one of her big "ah-ha" moments. She reminds Nick that he doesn't need to come out until he is ready. Because when he does, people will see him in a different light whether he wants them to or not.
RELATED: Queer Tested, Teacher Approved: 23 Queer YA Genre Books You Need To Read!
At Charlie's house, Tori (Jenny Walser) pops in on her brother, who is waiting for Nick to show up. He tries to play off that they are friends, but sisters know these things. Nick eventually shows up and the two try to do homework before getting preoccupied. Nick tells Charlie that he opened up to Tara and Darcy about them going out and that he wanted to tell them. Before Nick leaves, they decide to do the double date with Tara and Darcy making this their first official date. The four then decide that Elle and Tao should go and they should all play matchmaker.
"Girls" jumps to the next day as the triple date kicks off. Elle and Tao are the first to arrive and I want a friend who greets me like that. The group shares milkshakes and Darcy tries to meddle in Tao and Elle's relationship a bit. Charlie and Nick decide to go get refills and spend some quiet time together, where they decide that their next date will be just the two of them. When Tao gets up to help grab the milkshakes, Elle calls Darcy and Tara out for trying to meddle. She doesn't want to risk Tao knowing and ruining their friendship. Tara comments how once secrets are out, there is no going back and it looks like Darcy is worried she is talking about them coming out.
Tao sends Nick and Charlie back to the table and Elle questions them about the whole Elle/Tao debacle. Nick tells her that they were really just hoping to go on a triple date. Darcy and Tara, her and Tao and Nick and Charlie. Elle forgets her anger about the setup and shares her excitement about them finally being together. Charlie then tells her that Tao is the only one who doesn't know yet and that he has been trying to find the right time to tell him.
As they head off to the concert, we are treated to a sweet moment between Tao and Elle. I hope she can overcome her fear and tell him how she really feels. When they arrive at the concert, Tara overhears the girls making homophobic comments again and storms out with Darcy on her heels. Elsewhere, Charlie teaches Nick how to play the drums some more while he gets ready for the concert. Charlie tells Nick that he wanted him to come to the show, but he is worried that people will start guessing that they are together and he doesn't want him to suffer because of it. Nick doesn't seem to care and opens up about how he feels like he is bisexual.
"Girls" cuts to Tara and Darcy, who get locked in their room together. Tara just wanted some peace and quiet. Darcy finally gets Tara to open up about how she is feeling. Tara isn't dealing with the reactions to her coming out as well as she had hoped. People are treating her differently even though she is still the same person she was before. Darcy is worried that she regrets coming out, but that isn't the case. Tara just doesn't want to deal with homophobic people anymore, on top of struggling to figure herself out.
The two reconcile while Nick and the others run screaming through the halls, looking for them. The episode comes to an end as the concert begins with Nick, Tao and Elle watching.
RELATED: Keep up on Heartstopper with our recaps!
Can we get a hallelujah? This episode of Heartstopper was fantastic and I have so many moments that made me happy. But one that sticks out to me even days after watching it is that the series isn't erasing bisexuality. As a bisexual in a heterosexual relationship, it makes me happy that I am still being seen through Nick's journey. It was what drew me to his character in the graphic novel. I just hope that the more Nick explores it, the more open and supportive those around him are.
Get ready because we are getting ready to dive into episode seven!
Latest posts by Julia Roth
(see all)