The grim-grinning ghosts of the Haunted Mansion ride have come out to socialize in new posters released today for Disney's upcoming Haunted Mansion film. Along with the set of character posters in an iconic tarot card style, two special event posters were released, along with the announcement of a special early access event. 
The movie's plot follows a woman and her son who enlist a motley crew of "spiritual experts" to help rid their home of supernatural squatters. It will be very different from the previous iterations of the movie that we've seen. The epic cast includes LaKeith Stanfield, Tiffany Haddish, Owen Wilson, Danny DeVito, Rosario Dawson, Chase W. Dillon, Dan Levy, Jamie Lee Curtis and Jared Leto.
RELATED: Underrated Horror Movie of the Month: Cursed
From the looks of the Haunted Mansion trailer, we are in for a wild ride. The trailer shows how well this cast works together to create a creepy crypt-worthy tale with the familiar comical notes of the classic attraction. We are most excited about seeing our favorite characters from the ride come to life on screen. Curtis looks incredible as Madame Leota and Leto looks just as good as The Hat-Box Ghost. 
Tickets are on sale now for the July 28 release. A few lucky souls will be able to join the 999 other Happy Haunts sooner than expected because of tickets for an early access screening of Haunted Mansion on Wednesday, July 26, in Dolby Cinema at AMC theaters nationwide. 
RELATED: Horror Originals vs. the Remakes: A Nightmare on Elm Street
Below we have included all the new posters released, along with the Dolby, 4DX and tarot card character posters. Be sure to check out the official full-length trailer as well. 
FIVE NIGHTS AT FREDDY'S New Trailer Is a Terrifying Animatronic Fever Dream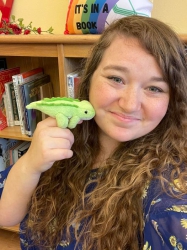 Latest posts by Lauren Darnell
(see all)