As reported by PC Gamer, Hasbro has announced its plans for its Dungeons & Dragons-based RPGs for 2020 and beyond. At an investors presentation at New York Toy Fair, Hasbro (the parent company for D&D-publishers Wizards of the Coast) announced that the upcoming Baldur's Gate III will come to Steam Early Access later this year.
RELATED: Scourge of Worlds: What Dungeons & Dragons Tells Us About The Mind Flayers of BALDUR'S GATE III
For those unfamiliar with "Early Access", it is when a still-in-development game is released for sale on the Steam video game digital distribution service in its unfinished alpha state. Usually this Early Access version only includes a limited section of the game's final story and quests. Not only does Early Access give gamers a chance to play and experience the game ahead of the main launch, but it also allows the studio to raise additional funds to continue further developing the game.
Larian Studios, the Ghent-based developer for Baldur's Gate III, is no stranger to Early Access. Divinity: Original Sin II (aka the game that got Baldur's Gate III for Larian) came to Early Access a full year ahead of its final release date of September 14, 2017.
In addition to news about Baldur's Gate III, Hasbro laid out their plans for all their video games (or as Hasbro terms it, their "Digital Expansion"). Hasbro and Wizards continue to expand Magic: The Gathering with both expansions for existing titles (i.e. additional platforms for Magic: The Gathering – Arena) and launches for new titles (i.e. an all-new mobile auto-battler called Spellslingers). Hasbro announced that they currently have seven D&D-based RPGs (including both Baldur's Gate III and Dungeons & Dragons: Dark Alliance) in development, and their plan is to release the first six every year until 2025. Baldur's Gate III on Early Access is the first of these planned releases.
RELATED: The Game Awards 2019: DARK ALLIANCE World Premiere Trailer
There was no word at this presentation about the new Austin-based studio (Archetype Entertainment) that Wizards of the Coast has opened, other than the already-released news about Archetype working on a new sci-fi project.
Hasbro also mentioned at the presentation that 2019 was a record year for Wizards of the Coast due primarily to revenue from MtG Arena.
What do you think? Are you excited to watch and play the ongoing Baldur's Gate III with Early Access? Or do you wish that Hasbro had simply given gamers a release date for the game's official launch instead? Let Geek Girl Authority know, and keep your eyes on GGA for news about Baldur's Gate III, D&D, and more!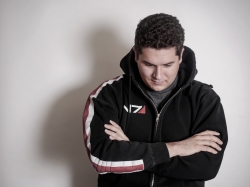 Latest posts by Tyler Boyce
(see all)