For diehard fans and new players alike, the announcement that the Halo: The Master Chief Collection will be making its way to PC this year is phenomenal news and certainly worth all the pizzas. 
The Halo community is awesome. We're excited, too! Please, don't send anymore pizzas to 343 Industries. The building receptionist isn't here so it's getting logistically challenging and we really don't want to see food to go waste.

— Brian Jarrard (@ske7ch) March 13, 2019
According to the team at 343 Industries, the Halo: The Master Chief Collection will be rolling out in stages through the Microsoft Store, and for the first time, through Steam.
"The Master Chief's arrival on PC will happen in stages with each title releasing one by one over time – giving the development teams the ability to ensure each one is right, while giving players a chance to jump in right away, rather than having to wait for the entire suite of games to be completed," they stated through their official blog.
The plan is to release Halo: Reach first, which covers the story of Master Chief's beginnings, with the additional games being released in chronological order. So expect to see Halo: Combat Evolved, Halo 2, Halo 3, Halo 3: ODST (the campaign) and Halo 4 released at seemingly intermittent times throughout the year. While The Master Chief Collection was already released for Xbox One last year, Halo: Reach was not a part of the game, but Xbox One players will be able to download Halo: Reach for free once it's out. 
This PC release of the Master Chief Collection will come with all the upgrades to each game. And while theses upgrades will vary by game, the developers have ensured fans that these features will include mouse and key board controls, Xbox gamepad and PC controller support, support for multiple resolutions and aspect ratios, adjustable framerates, and field-of-view sliders.
RELATED: Nintendo Introduces New Labo VR Kit
There has been no official release date set, but more information will be released in the upcoming months.  
You can find out more about the announcement through the Halo blog. You can also watch the official announcement trailer below.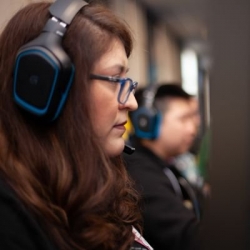 Latest posts by Renee Lopez
(see all)